Arsenal forward Alexis Sanchez 'very happy' and wants Premier League title
Alexis Sanchez says he has no plans to leave Arsenal and that there is "no doubt" the team is ready to win the Premier League this season.
Sanchez, 27, joined from Barcelona in 2014 and was Arsenal's leading scorer as he helped the team win the FA Cup in his first season.
Arsene Wenger has said the club will look to renew Sanchez's contract in May and the Chile international is clear about where his future lies.
"I am very happy at Arsenal and I'm not thinking about leaving," Sanchez said in the Sunday Mirror. "The unity here between fans, club and players is enormous and the supporters have been fantastic. We suffer the defeats and enjoy the victories together."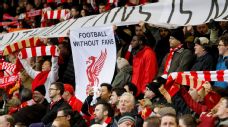 Sanchez is expected back in the squad for Sunday's game against Chelsea at the Emirates Stadium after being sidelined with a hamstring injury since November.
It is a timely boost for a team that have drawn their last two games but can still return to the top of the Premier League standings with a win against their London rivals.
"This campaign we are demonstrating that we are serious candidates for the Premier League title," Sanchez said. "I think there can be no doubt about our credentials to be champions this time.
"I am always ambitious in football and I still want to win three titles this season -- the Premier League, the FA Cup and the Champions League. It will not be easy but we can do it."
He added: "Right now, I don't know what I would do if we won the league, but maybe a tattoo!"
Mattias is ESPN FC's Arsenal correspondent. Follow him on Twitter: @MattiasKaren.