Sergio Aguero: Lionel Messi Man City transfer is 'ideal' for Barcelona star
Manchester City striker Sergio Aguero has told Argentina teammate Lionel Messi that Manchester is the "ideal" city for him, and urged the Barcelona star not be put off a move to the Premier League by the prospect of bad weather.
Barcelona's Ballon d'Or winner Messi has been repeatedly linked with City, although the forward said at the awards ceremony in Zurich that it his intention to finish his career where he started -- "at home" at the Camp Nou.
Despite Messi's intentions, Aguero -- who has previously expressed his hope that City could persuade Messi to make a move -- told Sky Sports News: "He already knows there's no beach! I said to him, at the end of the day we spend most of our time at home.
"We play every three days and just eat and rest between games -- so the weather is not really that important. So I told him Manchester is ideal as a city because you stay home, you play every three days, we can eat and play football together."
Meanwhile, Aguero says he has learned not to let his eagerness to play make him take unnecessary risks with his fitness. The striker missed seven City games earlier this season due to a hamstring problem sustained on international duty with Argentina.
He subsequently sat out four games with a heel injury not long after before returning against Arsenal on Dec. 21, but came off in the second half with knee pain and was an unused substitute for the next match against Sunderland.
The 27-year-old has started every fixture since then, and said: "Right now I feel fit and well. With the last injury I picked up on international duty I carried on playing when I should have come off.
"That could have been avoided but you always want to play, especially for your country. Argentina really needed to win, so I said to myself 'I've got to play.'
"I felt a twinge in my leg and with the slightest sprint I felt it again. After trying so hard to keep fit, the slightest niggle and this happened. Now I won't risk myself -- as happened for the game against Sunderland.
"I started the previous game at Arsenal when I felt a pain in my knee. I was told 'that's it, you're coming off.' Now I feel like I'm getting up to full fitness for games and missing as few as possible, that's the most important thing.
"The Premier League is so demanding that you can't play at 80 percent. I've tried to do that before and that's when I've injured myself.''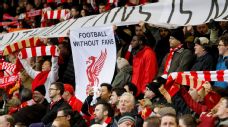 Aguero, who has scored 13 goals in all competition this season, added of his fitness struggles: "You're working hard in the gym so it could be that.
"Then you think: 'What else could it be? Could it be your diet?' So you change it. Then no, maybe it's not that. Last year I changed my diet. I've always eaten well but now I eat a few more vegetables than I did.
"As well as that I try to do things in the gym to protect the quadriceps, the hamstrings and the glutes to be fit to compete properly."