Schalke deny offers for Leroy Sane amid Man City, Barcelona links
Schalke have said they have not received any offers for attacking midfielder Leroy Sane.
Sporting director Horst Heldt told Sport1 that any transfer for the Germany international would be "in Schalke's hands."
Sane, 20, has been one of the Bundesliga's breakthrough stars this season, with a host of clubs reported to be interested in him.
Sport Bild said Barcelona, Manchester City, Liverpool, Manchester United, Chelsea and Paris Saint-Germain had already contacted his agent Jurgen Milewski.
Last week, Bild said Schalke "were forced" into including a €37 million release clause in Sane's contract, which expires in 2019. It reported that the clause is due to kick in at the end of the season.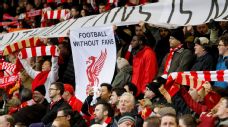 Schalke denied that report and Heldt said there was "no buyout clause for the summer" and currently "no offer for the summer."
Bur he added: "Should Leroy's career progress like it has in the past, it is clear that it's only a question of time until he wants to make the next step."
Sport Bild reported that the Schalke hierarchy believe Sane is worth at least as much as Raheem Sterling, who joined Manchester City from Liverpool for a reported €62.5 million last summer.
Coach Andre Breitenreiter, meanwhile, said he feared the "enormous hype" would "leave its mark" on Sane. "The public expectations grow and the media pressure is high," he said.