Celta Vigo's Claudio Beauvue 'happy' after he 'suffered' at Lyon
New Celta Vigo striker Claudio Beauvue is relieved to have completed a move to the Spanish club after claiming that he suffered on a "human level" during a difficult six-month stay at Lyon.
Lyon released a press release on Monday stating that they would receive €5 million up front as a result of the transfer, with another €2.5m in potential bonus payments included as part of his five-and-a-half-year deal.
Beauvue, 27, only joined Lyon from Guingamp last summer for a reported fee of over €5m. He never seemed to settle, however, and managed only six goals in all competitions.
The Guadeloupean got in trouble for failing to shake his manager's hand when substituted against Nantes in December.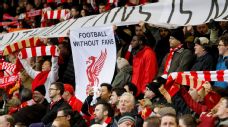 He was then forced to apologise for goading his own team's fans earlier this month after scoring in his final game for the club against Troyes.
Lyon's disastrous first half to the season saw them crash out of Europe and lose five of their last six league matches before the winter break.
It was also notable for regular reports of a dressing room split between summer signings and academy graduates, many of whom had been rewarded with pay increases for helping Lyon to finish as runners-up in Ligue 1 last season.
Speaking to RMC on Monday, Beauvue said he was grateful to leave it all behind him.
"I'm happy for me, my family, everyone who suffered with me during the Lyon adventure," he said.
Beauvue said he did not feel victimised during his time at the club but maintained that on a "human level" it was tough.
"I shared many things that didn't please me internally," he told RMC. "I don't want to go back over it. Those who know me know that I'm a person of integrity."
Following Lyon's 1-0 derby loss at St Etienne on Sunday, the club's president Jean-Michel Aulas criticised Beauvue's conduct.
"When a player expresses his willingness to leave and he says some not very pleasant things to his colleagues, it's difficult to manage," Aulas told reporters.
"I found myself in a situation where sometimes a state of mind did not correspond to what we expected.
"We've solved the situation. It allows the other players who've come out of the academy to understand that we're objective.
"Concerning Claudio, he disappointed me a lot. It's not the worst of disappointments but it's true that he had an abnormal attitude for a top-level player.
"On the one hand through his comments and on the other through his refusal to play by leaving training."