Voller: Premier League cash enabled Leverkusen to sign Javier Hernandez
Bayer Leverkusen sporting director Rudi Voller has said the money received from Tottenham for Son Heung-Min enabled them to bring in star striker Javier "Chicharito" Hernandez in the summer.
Amid debate in Germany over whether the Bundesliga will lose its best players to English clubs when the new Premier League TV contract kicks in, Voller told kicker it could instead mean "new doors open" for transfers.
A number of Bundesliga stars including Son, Bastian Schweinsteiger, Kevin De Bruyne and Roberto Firmino have moved to the English game, with a reported total of €200 million being received by German clubs.
In a recent poll of Bundesliga players carried out by kicker, nearly half said they would move to the Premier League if offered a significantly better salary, while more than one-third said that was possible.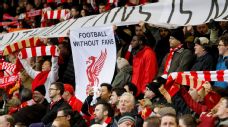 But Voller told kicker there were two sides to the story, highlighting the positive effect of money coming into the German game.
"The development is only starting now," he said. "New doors open. With the money we got for Son Heung-Min [who joined Spurs for a reported €30m], we were able to complete the signings of Chicharito and Kevin Kampl."
Hernandez joined Leverkusen from United last summer for a reported €12m and has scored 19 goals in 22 competitive matches.
Leverkusen were not the only Bundesliga clubs in the market for the Mexico international, Schalke sporting director Horst Heldt told the magazine.
"We were also in the race," he said. "But Leverkusen were faster, and maybe also had more financial muscle at the time of the transfer."