Roberto Carlos: Suggesting Neymar move to Real Madrid was a joke
Roberto Carlos says he was joking when he said Neymar could move from Barcelona to Real Madrid.
The former Real Madrid defender said last week that he could envision "one day Neymar coming to Real Madrid."
But Roberto Carlos now says that claim was never meant to be taken seriously.
"It's impossible," Roberto Carlos told Intereconomia. "I only said what I said as a joke and someone took it seriously.
"But Madrid always sign the best players in the world."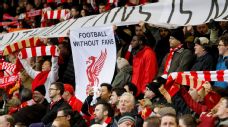 Roberto Carlos also downplayed suggestions he could join Zinedine Zidane's coaching staff at the Bernabeu.
"I'm happy for the possible interest, but I'm here for training and learning," Carlos said.
"Now, I've started my [coaching] course at the highest level. I had five years of training in Turkey, Russia and India. But I still have a lot to learn, so give it time."