Napoli's Gonzalo Higuain thanks manager Maurizio Sarri for recent form
Gonzalo Higuain thanked Napoli manager Maurizio Sarri for challenging him and making him a better player, as the Argentine notched his 19th and 20th goals of the season in a comeback win vs. Sassuolo.
Sarri, who took over for Rafa Benitez ahead of the 2015-16 campaign, challenged Higuain at the start of the season saying, in part, that he could be the best striker in the world if he wasn't so lazy.
As recently as December, Sarri went as far as to say that Higuain had proved him right and was the best striker in the world. The 28-year-old, who is the only player in Europe's top 5 leagues with 20 goals, proved his manager right once again on Saturday, scoring his fifth brace of the season in a 3-1 win that kept Napoli atop the Serie A table.
Now Higuain hopes his form and that of his teammates will continue all the way to a title challenge in Italy's top flight.
"I am working, I have confidence thanks to the coach, my teammates and the club. Sarri has a lot to do with my form, a lot. I thank him and just want to maintain this form," Higuain told Sky Sport Italia.
"We have to continue like this, we're in good form and have to make the most of it. Now we have Tuesday and want to keep going," he told Sky Sport Italia.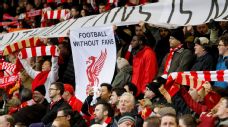 Sarri celebrated the win versus Sassuolo with his players and fans, but the manager was quick to remind his star goal scorer and the rest of his Napoli teammates that they can be better.
"If [Higuain] attacked the goal more the way he did in his first goal, he'd be even better," Sarri said. "He doesn't make that movement often, but he has everything it takes and if he made more of his characteristics he could do even better.
"Having said all that, I remain confident at this moment Higuain is the best centre-forward in the world.
"[Jose] Callejon is top scorer in the Europa League, so it was odd he hadn't scored in Serie A before tonight. I hope the team can do even better and continue to improve. When you stop improving, you regress."