Real Madrid not planning big January deals despite FIFA ban - Sanchez
Real Madrid director general Jose Angel Sanchez has said the club are not considering emergency big-name signings this month despite facing a FIFA transfer ban in the summer.
FIFA announced on Thursday that Real and Atletico Madrid had been banned from registering new players for two consecutive transfer windows due to irregularities in youth transfers.
The punishment, similar to that previously handed out to Barcelona, is due to come into force during this summer's transfer window, but both Madrid clubs have announced that they will appeal, which may delay the sanctions until January 2017 even if they are unsuccessful.
FIFA has already confirmed that both clubs remain free to register new signings until the current window closes on Feb. 1, though, and the news has prompted speculation that Real could now seek to bring in some of their top targets now rather than in the summer.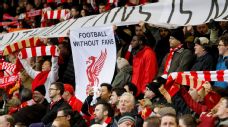 Asked about Real's transfer plans at a news conference at the Estadio Santiago Bernabeu, Sanchez expressed confidence that the appeals would be successful and said no sudden moves would be necessary.
"At this moment we are only thinking about the appeal process," Sanchez said. "We are not even considering the other possibilities.
"The club has professionals to take care of the planning and they will do what they have to do. From our point of view, common sense will see that there will be no consequences for the club."
Real's director of legal services, Javier Lopez Farre, told the news conference that just because Barca's appeal against their ban failed, it did not mean Madrid would also fail if they also went all the way to the Court of Arbitration for Sport.
"I'm not going to comment on the Barcelona case, but our case is totally different," Lopez Farre said. "We can only think that this has been a mistake."
Sanchez repeatedly called the FIFA action "absurd," pointing out more than once that the four sons of current Blancos first-team coach and long-time Real resident Zinedine Zidane had been included in the documentation received.
However, neither he nor Lopez Farre would confirm directly whether Zidane's family were among the eight players who FIFA found had not been correctly registered.
"The document seems to affect 39 players, but regarding the registering of players, the club has only been sanctioned for eight as I understand," Lopez Farre said. "I can't say the names of the eight cases because it is personal information. We had requested authorisation for Zidane's sons.
"Two of Zidane's sons have been involved in the sanctions because it is considered that they were processed wrongly. Of the eight cases that have been put upon us regarding incorrect registrations, there is a case of one player who we did not register because he didn't have the documentation.
"We considered that he didn't comply with the regulations because he was less than 12 years old. The values of the club are more thorough than those of the regulations."
Perez was not at the news conference, which had been called in response to FIFA's announcement. The Real president had earlier attended an event organised in association with the Real Madrid Foundation, where a social-sporting project known as "El Gallinero" was launched.
Florentino Pérez visitó el Proyecto Sociodeportivo "El Gallinero" https://t.co/xYdQAT3w3B @Fun_Realmadrid pic.twitter.com/x2bdaMc4hV

- Real Madrid C. F. (@realmadrid) January 14, 2016
"Every time we kick off a new project of this magnitude, anywhere in the world, we think of the weakest people, the most vulnerable, those with a right for a life full of dignity," Perez told Madrid's official website.
"We believe this above all with children, because Real Madrid is a dream machine, and they deserve to dream -- because football can help transmit change with great force and we must face this responsibility with decisions."
El Gallinero is an area of Madrid known for social problems, with a lack of resources and infrastructure for young people. The project will help 80 boys and girls from the area aged between five and 12 years old.
Those children at the event, which was also attended by Madrid's mayor Manuela Carmena, received a Real Madrid football and bag filled with sporting material.