Lyon's Alexandre Lacazette sets sights on 'attractive' Premier League move
Lyon star forward Alexandre Lacazette says a move to England this summer would be "very attractive."
The 24-year-old scored 27 Ligue 1 goals last season and signed a new deal to stay in his hometown in the summer.
But with Premier League giants reportedly lining up to sign him, Lacazette told the Telegraph that he has informed Lyon of his interest in exploring transfer options.
"Yes, I am thinking about it and the Premier League is very attractive for a player," Lacazette said.
"But I know that to go there I have to do well this season. So I am very concentrated on doing well and maybe, after that, I will go there."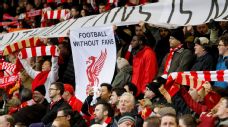 Lyon president Jean-Michel Aulas said last week that Lacazette would stay at his club for a long time, but the forward says the president knows of his plans.
"So I know that it is possible that I will move to the Premier League and Lyon are aware of that also," he said.
"There is no formal agreement that I will go but the president [Jean-Michel Aulas] knows that it's a possibility that I will leave Lyon at the end of the season."
But Lacazette added that he does not intend to leave Lyon in the winter transfer window.
"I will stay at Lyon in January," Lacazette he said. "I have some personal objectives to follow from now until the end of the season.
"Then at the end of the season we will see. I will speak about staying or not at Lyon."