Bayern's Franck Ribery: Carlo Ancelotti wanted me at Chelsea in 2009
Franck Ribery has told Sport Bild he is delighted that Carlo Ancelotti will coach Bayern Munich next season, revealing that the Italian tried to sign him for Chelsea in 2009.
Ancelotti has agreed to take over at Bundesliga champions Bayern when Pep Guardiola's contract at the Allianz Arena runs out this summer, with the Catalan coach interested in a move to the Premier League.
Ribery, 32, has struggled with numerous injury problems since 2014, but the winger -- who has been at Bayern since 2007 -- is eager to work with Ancelotti having previously been targeted while the coach was at Stamford Bridge.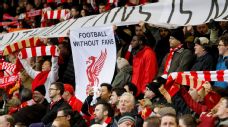 "Ancelotti already wanted to sign me in 2009 when he was with Chelsea. That means he likes me as a player and that is obviously great," Ribery said.
"I think Ancelotti is a great coach and human being. Communication will not be an issue because he speaks French after his time with PSG. I have heard a lot of good things about him.
"We have already met, but we have not had extensive talks yet. But I always hear that he is very close to his players. This type of coach suits me."
Ribery has made just two appearances this season having only recently recovered from a nine-month ankle injury, and suffered a thigh complaint during Bayern's Champions League clash with Dinamo Zagreb in December.
The former France international admitted his injury problems saw his relationship with Guardiola change, adding: "Everything was great when Pep first joined Bayern. But then I started picking up injuries early in 2014.
"I hardly played last season and was not often part of the team. It is only logical that we speak less regularly.
"It is completely different when you are out there on the pitch with the coach each day.
"Pep is also sad about it. It was hard for all of us. We don't have any problems or anything, but we would have been closer without my injuries."