Mats Hummels: No pressure to renew Borussia Dortmund contract
Borussia Dortmund captain Mats Hummels has said he has not been put under any pressure to extend his contract as he assesses whether to remain at the Westfalenstadion.
Hummels, 27, is under contract with Dortmund until 2017 but told kicker this week he is in no rush to enter talks over a renewal.
The Germany centre-back, who has frequently been linked with Manchester United in the past, elaborated on his position in local paper Ruhr Nachrichten, saying his next contract could be his "last big deal" from both a sporting and financial perspective.
If Hummels does not agree to an extension by the summer, Dortmund may seek to sell the player to avoid the risk of losing him on a free transfer next year, but he said: "The club does not put any pressure on me."
He had told the media late last season that he was "reflecting" on whether to leave BVB, but he ultimately decided to stay on for Thomas Tuchel's debut campaign despite admitting he considered United's interest to be an "honour."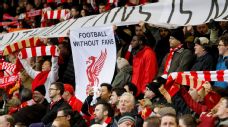 Regarding his comments, Hummels told Ruhr Nachrichten: "I already said before the season that I want to see what happens this year -- a new coach, several changes in the squad. To me, it is important to see how good we are, and how good we can be in the future.
"I am not pushed for time, and no one from the club has put any pressure on me."
Asked whether he is now facing the biggest decision of his career, Hummels said: "No, I don't think so. I had to make this decision quite frequently. And, indeed, we have not entered talks."
He added that he was "not leaning one way or another" and is focused "completely on football" for now.
Meanwhile, Hummels has stressed that he does not accept the idea that Germany are in a transitional period ahead of Euro 2016.
Sami Khedira has said that Germany cannot be considered contenders in France in their current state, and coach Joachim Low has shifted the focus towards the 2018 World Cup during recent interviews.
However, 2014 World Cup winner Hummels said that, although he does not intend to retire any time soon, he does not believe he will have many chances for further success at international level.
He is one of a group of players born in the late 1980s, along with Khedira, Jerome Boateng, Thomas Muller, Marco Reus and Mesut Ozil, and said: "We can't all play forever.
"Many of us won't have too many chances to win that tournament. I am 27 now, I won't play in 2024, and this is my second-last chance to win the trophy."
However, he added: "I would not say the title is a must. There are seven or eight nations who also have high expectations. Not everyone can win the European Championship."