Barcelona eye attacking back-up for Messi, Neymar, Suarez - Luis Enrique
Barcelona coach Luis Enrique said he will target attacking reinforcements "until the last day of the transfer window" now that the FIFA-imposed transfer ban has finally ended.
In 2014, Barca were found to have breached numerous violations of FIFA's youth transfer regulations, with the one-year transfer ban being upheld on two separate occasions by the Court of Arbitration for Sport.
Barcelona registered 77 new players across the club's various teams once the ban finally ended this month, with summer signings Arda Turan and Aleix Vidal the most high-profile names on the list.
The Blaugrana coach, who was named FIFA World Coach of the Year on Monday, told a news conference that "right now we need to strengthen our attack if we had to bring in a transfer, although I would like to reinforce all of our lines."
Barcelona's attacking triumvirate of Lionel Messi -- who reclaimed the Ballon d'Or on Monday night -- Neymar and Luis Suarez have been scoring freely all season, but that has not put Luis Enrique off looking to add to his attacking options.
Schalke winger Leroy Sane is the latest young attacker to be linked with a move to the Camp Nou but, with wages taking up over 70 percent of their annual budget, Barcelona have said that they are watching their finances carefully.
"This is a difficult transfer market. No one wants to lose an important player at this time. But still, we will attempt to reinforce our line until the last day," Luis Enrique said ahead of Wednesday's Copa del Rey second leg against Espanyol. "For reinforcements to come we must negotiate and those negotiations are tough. It won't be easy for clubs to give up key players during this winter transfer window."
Luis Enrique played down the controversy surrounding the first leg against Espanyol after Barcelona won an ill-tempered match 4-1 with eight Espanyol players booked and two sent off. Suarez was subsequently banned for two games for his role in the row in the tunnel after the game.
"In the first leg of the derby nothing happened that hasn't happened a million times," Luis Enrique said. "It was an exchange of opinions. It was nothing that should alter the behaviour of professionals on the field. We have all played this type of match, what is important is what happens on the pitch."
Luis Enrique also reiterated his willingness to work with Marc Bartra, who has been linked with a move to Manchester United.
"I know other players have come in and that hasn't been good for him but yes, it has been good for the team," he said of the 24-year-old defender. "I see him with the desire and the potential. He can improve his level of play because he has the desire. There are other players in front of him, but he can change with me if he wants to take advantage of the opportunity."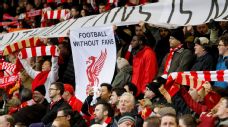 Finally, the coach, who led Barcelona to titles in La Liga, Copa del Rey and Champions League in 2015, plus the UEFA Super Cup and FIFA Club World Cup, said he understood the criticism of his decision to skip Monday's Ballon d'Or gala.
"I am very happy for the honour, it is recognition for the entire team and the staff," he said. "It was regrettable that I could not go. We all knew that [Lionel] Messi would win the Ballon d'Or because it was a clear recognition for the all-time best player. Others, like Ney[mar] are getting world-level recognition and some believed that he also deserved it. Leo has a lot of talent, a lot of happiness and many awards. They are all part of a team and they understand that."