Mohamed Elneny to Arsenal held up by work permit issues - Arsene Wenger
LONDON -- Mohamed Elneny's transfer to Arsenal is still being held up by work permit and visa issues, but manager Arsene Wenger remains confident the deal will be finalised this week.
Arsenal agreed a deal with Swiss club Basel for Egypt midfielder Elneny even before the January transfer window opened, but the club are still waiting for all the paperwork to be sorted out.
Having said on Friday that he thought the deal would go through in "the next two or three days," Wenger on Monday adjusted his prediction to sometime before the end of the week.
"We are positive that this week it can happen. The situation should be sorted out this week," Wenger said at a news conference ahead of Wednesday's Premier League game at Liverpool.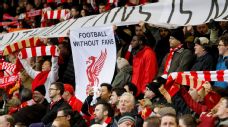 "There are a lot of work permit problems and special paperwork to do, and visa, so we hope we can finalise it this week."
The holding midfielder is expected to provide cover for Francis Coquelin, who is sidelined with a long-term knee injury.
Club officials are confident that Elneny qualifies for a work permit and visa and that it's just a matter of waiting for the paperwork to be approved, although Wenger is not counting him as an Arsenal player just yet.
"As long as it's not definitely signed, you have to be cautious. But I am optimistic about the case," Wenger said.
Elneny is expected to be Arsenal's only signing in this transfer window unless an exceptional opportunity arises, with defender Mathieu Debuchy's possible departure the only other likely transfer for the club.
But Wenger expects this January window to be perhaps the busiest ever as a new TV deal will make staying in the Premier League more valuable than ever and clubs desperate to avoid relegation try to strengthen their squad.
"I would say for the media, you could have some good news with the January transfer window because I believe many clubs will be active," Wenger said.
"You go from the clubs who are down in the table like [Aston] Villa, they have to do something, to the clubs at the top as well, I am sure many of them will be very active. It could be my prediction that it could be one of the most active transfer windows in January that we have seen."
Mattias is ESPN FC's Arsenal correspondent. Follow him on Twitter: @MattiasKaren.