Pato refuses offer from Tianjin Quanjian - Corinthians president
Corinthians forward Alexandre Pato has refused a lucrative offer from Chinese second division club Tianjin Quanjian, club president Roberto de Andrade has confirmed.
The 26-year-old has recovered his fitness and his best form since moving to Brazil for €15 million in January of 2013, and has expressed his desire to return to Europe in January. So much so that outlets in Brazil are reporting Pato, who spent the past two seasons on loan with Sao Paulo, has turned down a three-year contract worth around €13.5m annually from the Chinese club.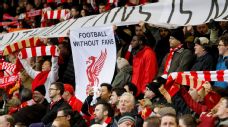 Speaking at the club's training facility on Thursday, Andrade expressed his disbelief with the player's decision to stay.
"The offer he had to go to China is a deal I've never seen," said Andrade. "If they came to buy an industry in here in Brazil it would not be with an offer so big."
Pato's current contract with the club runs until December of 2016, and Andrade said it's Pato who will ultimately decide his future club.
"He didn't see himself in a country like China. The decision to stay or leave is not in the club's hands," added Andrade.
Sources told ESPN FC last month that he was keen on a move to England, with Liverpool and Tottenham among the potential options, and although Corinthians boss Tite is keen to keep the player, Pato has now spoken of his desire to play in the Premier League.
Pato's agent recently said that a return to Serie A was a possibility, though, and the forward indicated that he is keeping his options open.