Hatem Ben Arfa keen to work under Real Madrid boss Zinedine Zidane
Nice attacker Hatem Ben Arfa says he would like to work with new Real Madrid coach Zinedine Zidane in the future.
Ben Arfa, 28, has enjoyed an impressive return to form this season and last week Nice boss Claude Puel said it was no surprise to hear that Madrid were following his progress.
Zidane took over from Rafael Benitez as coach of the Spanish club on Monday and Ben Arfa, who has scored seven goals this term, would welcome the chance to work under his French compatriot.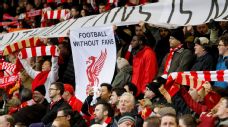 "Of course -- to take all his advice," the former Newcastle player told RTL. "Because I think he has a lot of advice to give, especially to attacking players.
"So, of course, to be under his command one day would be very, very good."
Zidane previously served as Carlo Ancelotti's assistant at Madrid before taking over Real Madrid Castilla -- their reserve side.
Many of Zidane's former France teammates believe his "aura" as one of the greatest players ever will help the ex-Juventus and Madrid midfielder to earn respect as a coach.
Ben Arfa, who won a recall to the France squad earlier this year, agrees with that assessment.
"It's great -- it's one of the biggest clubs in the world," he said. "Now it's the deep end because he's learned the ropes with the reserve team.
"He knows the place very well. He was there a long time and then he worked with the younger players. Everyone knows him at the club -- all the players.
"So I think that will make things easier and it will be a good experience for him. When a manager is close to the players, it lifts performances on the pitch."