Liverpool's Kolo Toure wants Premier League stay, jokes about Real Madrid
Liverpool defender Kolo Toure has said he wants to remain in the Premier League even if his contract is not extended at Anfield, while joking he could join Real Madrid.
Toure, 34, signed for Liverpool from Manchester City in 2013 and has since made 22 Premier League starts for the club.
The Ivorian has made just three top-flight appearances this season but impressed as he helped the Reds to a 1-0 Capital One Cup first-leg semifinal win at Stoke on Tuesday.
With his contract due to expire in the summer, Toure said in the Daily Mirror: "If I can play like that then maybe I will go to Real Madrid!
"I don't know what I am going to do but I would like to stay in the Premier League playing football because I love it."
Toure could make manager Jurgen Klopp's starting XI when they face Exeter City in the FA Cup on Friday, amid an injury crisis for the club.
"We have a young team and they need to learn the past is gone and every performance is a challenge where you must give 100 percent no matter who you play," he said.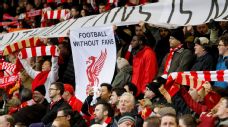 "That is what happened to me in my career. You learn there is no time to relax. To come to Stoke and play like we did is one thing, but if we go to Exeter [for Friday night's FA Cup third round tie] and think it is going to be easy, then we will find ourselves in a tough game.
"We need that team spirit in every game. If you think you are going to win easily, then you have no chance because this is a very difficult league -- anybody can win.
"We lost that game [at West Ham] because there was less commitment but at Stoke we showed great fighting spirit."