Napoli to make top signing after fans watched film - Aurelio De Laurentiis
Napoli president Aurelio De Laurentiis has said he is going to deliver on his promise to sign a "top player" in the January transfer window after fans went to see his new film.
Movie producer De Laurentiis had promised before Christmas that if the Napoli fans went to see his latest production, "Natale col boss" ("Christmas with the Boss"), he would reward them by making a top signing.
Delivering his traditional end-of-year speech to Naples-based Radio Kiss Kiss, De Laurentiis said that the film's box-office success meant "that promise to buy a truly important player will be maintained."
Maurizio Sarri's side are currently a point behind Serie A leaders Inter Milan and De Laurentiis added: "At Napoli we need champions -- players who are right for the role they're needed for.
"Obviously when you want to buy you also need a club who's willing to sell -- you can't point a gun at anyone -- but we have already started negotiating with a number of players in a number of countries, all of whom would be key to improving our squad.
"When you have such quality in the squad as we do, improving it is a difficult task in itself!"
De Laurentiis left no hints as to which player he'd favour, but he did indicate a clear profile.
"I don't want anyone too young -- not a 17- or 18-year-old, irrespective of how good they are," he said. "I prefer to pay a few extra millions but have the certainty of a bit more experience.
"This doesn't mean going after a 30-year-old. A player born between 1990 and 1992 is ideal for our purposes, and would be young enough to refresh the current squad and to be able to learn the coach's methodology straightaway.
"I'm stating the obvious but none of the players we're interested in has played under Sarri before and learning a new coach's tactics takes time, so we're trying to be quick."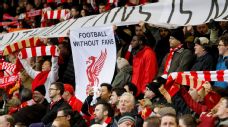 Sarri replaced Rafa Benitez in the summer, with the Spaniard taking the Real Madrid job, but De Laurentiis is more than happy with how things have worked out.
"This season is giving us plenty of satisfaction and the awareness that, in 2016, we can compete with anyone. Sarri is proving to be a very happy choice. I never doubted him," he said. "We've now entered a new era.
"Benitez is part of a very distant past -- he's Napoli football history. See how different I am from other presidents? He hasn't lasted anywhere else -- with us, I made him last two years. I always honour my promises.
"I also have to say that we did well not to sell any of the many players that we were being asked for. It would have been so easy to yield to the siren of money, but we resisted that temptation in order to give the new coach a really strong team.
"And indeed, now we have an extraordinary squad as well as world-class technical staff. We finish 2015 with pride -- we're one of the biggest realities in Europe."