Erick Thohir plays down Inter Milan's winter transfer plans
Inter Milan president Erick Thohir has told fans not to expect significant spending in the January window.
Roberto Mancini's Inter side are currently a point clear at the top of Serie A and they have been linked with a number of players as they look to secure the title.
Manchester City right-back Pablo Zabaleta, who played under Mancini at the Etihad Stadium, is said to be a target along with Juventus' Martin Caceres and Verona's Jacopo Sala.
Mancini has also hinted at an interest in Paris Saint-Germain winger Ezequiel Lavezzi, who appears keen to return to Italy after having built his reputation at Napoli.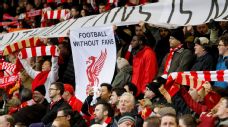 However, Thohir told Inter Channel that he is reluctant to increase the already sizeable Inter squad and will only make signings if they can improve the team.
"The fans are expecting something from the January transfer market, but any player we decide to purchase must be Inter-worthy and really useful to the team," he said.
"No player wants to remain on the bench. We currently have a squad of 25-28 players and that's a lot, particularly because we're only playing in the league and in the Coppa Italia.
"If next year we manage to play in the Champions League then it will be crucial to maintain such an ample squad but, for now, there's a lot of players. Many of them never play, and that's a shame."