Denis Suarez could rejoin Barcelona - sporting director Robert Fernandez
Barcelona sporting director Robert Fernandez has indicated that the club could re-sign their former player Denis Suarez from Villarreal during the January transfer window.
Speaking to reporters after his side's 4-0 win over Real Betis at the Camp Nou on Wednesday, Fernandez was asked about potential arrivals and departures.
And questioned about the chance that Suarez -- who has a buy back clause in his Villarreal deal -- could return, he said that could happen.
"Denis Suarez? That's a possibility. I don't want to anticipate anything," he said. "Possibly he could be a signing."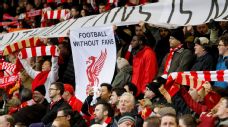 The sporting director stressed that defender Marc Bartra would be staying put, adding: "He has not asked to leave, nor will he leave."
But he revealed that forward Sandro -- who has been linked with a move to Tottenham -- could be on his way.
"There will arrive a moment in which we have to decide," he said. "We have time to think."
Barcelona coach Luis Enrique has said Spain under-21 playmaker Suarez was "interesting" and added: "He has been doing well. At Sevilla [on loan last season] he did not get playing time, and at Villarreal he is doing very well. He could be an interesting player."