Didier Drogba role down to Chelsea officials - Guus Hiddink
Guus Hiddink has praised Didier Drogba but said it would be down to Chelsea officials to determine whether the Montreal Impact striker can join his coaching staff.
Former Chelsea star Drogba sat alongside Hiddink and club owner Roman Abramovich in Saturday's 3-1 league victory over Sunderland at Stamford Bridge.
The 37-year-old continues to be linked with a role in interim Chelsea boss Hiddink's short-term setup, despite remaining contracted to the Impact in Major League Soccer.
Hiddink reiterated his admiration for Drogba but insisted the club's board would handle any extra back-room recruits.
"I worked with him five or six years ago and I was delighted to have such a professional in the squad," Hiddink said. "He's a legend already in this club.
"It's nice to connect guys with big hearts somehow to the club. The only thing is at the moment is that he's playing in Montreal, under contract.
"The official process I don't know but I spoke openly from the bottom of my heart that huge impact players can be key for the club. Other people have to deal with that, not me."
He added: "All the big clubs, and the smaller ones, have these specific guys, figures, who can go into whatever they like -- coach, ambassador, manager -- but they must be given the opportunity to do so.
"They give the Chelsea brand a big image, worldwide."
Hiddink does not expect to remain at the club far beyond the end of the current season, as he reprises the caretaker role he first held in 2009.
The ex-Russia and Netherlands manager could help Chelsea chase Mourinho's successor, with the likes of Pep Guardiola, Diego Simeone and Antonio Conte in the frame.
"At other clubs in the past I've been speaking from time to time with the board, but not in an official capacity," Hiddink said, hinting at helping Chelsea's board in their permanent manager search.
When asked if he would consider seeking the full-time job himself, Hiddink replied: "We spoke about until the end of the season.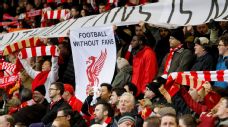 "First we said let's go to mid-May, and then let's see. I will see what will happen. As long as I feel desire, as long as I feel passion [to do the job].
"I must feel inside my heart that I'm passionate to work with the guys. You've got to have a feeling inside your stomach you want to work with the team.
"I shouldn't be here, halfway into the season. That means things are not going as well as foreseen, but anyhow I'm glad to be back.
"I shouldn't be here, but I am. That's the reality of today's situation, and I'm glad to be back."