Bayern's Pep Guardiola yet to confirm future, has praise for Carlo Ancelotti
Pep Guardiola has not confirmed whether he will leave Bayern Munich when his contract runs out at the end of the 2015-16 season.
Guardiola, 44, has won back-to-back Bundesliga titles since joining Bayern on a three-year deal in 2013, though the Catalan coach has yet to announce whether the current campaign will be his last at the Allianz Arena.
The former Barcelona midfielder and manager promised there would be "clarity" on his plans next week, with the club's CEO, Karl-Heinz Rummenigge, having previously said there would be a final discussion after the game against Hannover on Saturday.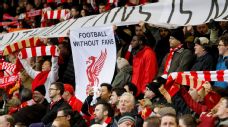 Widespread media reports suggested Guardiola had already made his decision and told Bayern last week that he would not prolong his stay, with Manchester City, Manchester United, Arsenal and Chelsea -- who parted company with Jose Mourinho on Thursday -- all linked with the coach.
But after Bayern announced new contracts for Thomas Muller, Jerome Boateng, Javi Martinez and Xabi Alonso on Friday morning, Guardiola told reporters prior to his news conference: "Kalle [Rummenigge] knows absolutely everything. He is top. We have said many times that we will talk after the Hannover match.
"That's still the plan and we say it again today. I am only focused on Hannover. I have coached four teams in the past few months. We will know everything the day after tomorrow."
Guardiola also confirmed that he will fly to Barcelona after the game for the beginning of the winter break, so a decision is expected before he leaves.
Germany coach Joachim Low has been tipped as a potential successor along with former Real Madrid boss Carlo Ancelotti, with Guardiola describing the latter as "a super trainer and a super person."
Bayern's former coach Ottmar Hitzfeld believes Ancelotti would be a "great fit" at the Allianz Arena, praising the Italian's record of winning the Champions League three times.
Guardiola has won back-to-back German titles as well as the DFB-Pokal at Bayern, but has been knocked out of the Champions league semifinals twice by Spanish clubs -- Real Madrid in 2014 and former side Barcelona in 2015.
ESPN FC correspondent Stephan Uersfeld contributed to this report.