Paris Saint-Germain's Marco Verratti perfect for Barcelona - Xavi
Former Barcelona midfielder Xavi says Paris Saint-Germain's Marco Verratti would fit in perfectly at the European champions.
Xavi, 35, is currently with Qatari outfit Al Sadd after he ended a 24-year association with Barcelona in the summer.
The former Spain international is a difficult man to replace but he believes that Verratti, 23, has what it takes to thrive at the defending La Liga champions.
"I really like Verratti," Xavi told French TV show Canal Football Club.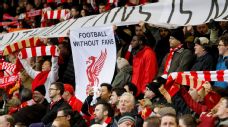 "I like watching him play. I like his vision of the game, his passing game. He almost never loses the ball.
"He's a player of exceptional ability. He would adapt perfectly if he was playing at Barcelona."
Verratti has recently been compared to Xavi and the Italian international has said in the past that he likes the Catalan side's style of play.
The former Pescara player has also been linked with Barca's rivals Real Madrid but Xavi is hopeful that he will one day end up at his former club.
"I'd like that," Xavi said. "He would be a great player for Barca. He's playing at PSG, one of the best teams in Europe, where they play some incredible football. He's one of the best midfielders in the world."
Xavi also said that there was no truth to reports suggesting PSG were interested in signing him last summer.
"I was under contract with Barcelona and I promised them that I would not sign for another European club," Xavi said.
"I went to Qatar and because PSG has links with Qatar that information got in the papers. But it's not true."