Mathieu Valbuena rested by France amid Karim Benzema controversy
France manager Didier Deschamps has left Mathieu Valbuena out of his squad to play Germany and England in the wake of the news that Karim Benzema has been charged over an alleged attempt to blackmail his teammate.
After being questioned by police, Real Madrid striker Benzema, 27, was charged on Thursday with conspiracy to blackmail and participating in a criminal group as part of an investigation over a sex tape involving Valbuena.
France face Germany on Nov. 13 in Paris and England on Nov. 17 at Wembley but neither Benzema nor Valbuena will take part.
Benzema has been out of action for Madrid recently with a hamstring problem and, after announcing his squad for this month's games, Deschamps began his news conference on Thursday by saying he decided to leave the former Lyon striker out due to injury after talking to him on Monday.
Deschamps also said he made the decision to rest Valbuena.
"The justice system has taken hold of this affair so the best thing to do for the moment is to leave it to do its work and they'll take the decisions that they have to," Deschamps told reporters.
"As regards Mathieu Valbuena, even if he's not playing as well at the moment with his club Lyon, you'll easily understand that he isn't in the best psychological condition in relation to all of this affair.
"So I therefore took the decision to give him a breather for the two very important games that await us."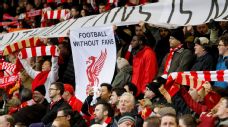 Deschamps then said he would not entertain any questions unrelated to football and would not get into hypothetical situations arising from the blackmail case.
Four journalists in a row attempted to ask the Deschamps about the consequences of the controversy for his France side. After several interventions from the team's press officer, Deschamps declined to answer.
The France boss then said he never went into detail on any discussions he might have had with his players.
However, he later reiterated that he, rather than Valbuena, had considered it advisable that the former Marseille player should sit out this month's games.