Cristiano Ronaldo leaving Real Madrid for PSG is possible - Ramon Calderon
Cristiano Ronaldo could leave Real Madrid for Paris Saint-Germain at the end of the season, according to former president Ramon Calderon.
Ronaldo, 30, became Madrid's all-time leading scorer on Saturday, overtaking Raul's total of 323 goals by netting in a 3-0 win over Levante.
The Portuguese star has won the Ballon d'Or award in each of the past two seasons and on Monday he was named on the 23-man list of nominees to take the prize for 2015.
He has been repeatedly linked with PSG in recent months, although his former manager Carlo Ancelotti recently said he did not foresee La Liga's record goal scorer moving to France.
The two teams play each other in the Champions League group stage, with the first game in Paris being played on Wednesday before the return tie in two weeks' time.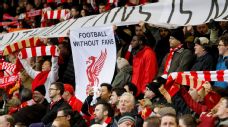 But Calderon, president of Madrid between 2006 and 2009, thinks Ronaldo will eventually opt for a move to the French champions.
"I heard the rumours about a strong interest from PSG," he told French newspaper Le Parisien. "As a former president and supporter of Real Madrid, I hope it will never happen. But as a connoisseur of the world of football, I think that a departure is possible.
"For the moment, Cristiano has not spoken about it. I think he'll make his decision at the end of the season in accordance with the titles won and the feelings he has."
Calderon rarely wastes an opportunity to comment on Florentino Perez, who preceded him as Real Madrid president between 2000-2006 and then managed to sign Ronaldo for £80 million from Manchester United at the start of his second term in 2009.
He contends that it will be Ronaldo, rather than Perez, who will decide if he leaves the club.
"A possible departure of Cristiano Ronaldo will never be down to Florentino Perez," Calderon said. "Only the player will be able to make that decision... knowing the cold relationship between the two men, everything is possible."
Calderon also said Ronaldo had "no price" because only Barcelona's Lionel Messi could compare to the Portuguese in terms of what he gives to a team in goals and mentality.
He added: "If Real sell him for €100 million, they will no doubt be richer but they will never to be able to buy [another] player like him."
PSG defender Thiago Silva told AS that Madrid are right to be concerned that their star player could move on.
"It is normal that they are worried," he said. "I would be too. I don't know how many years Cristiano will have at Madrid."
But the Brazil international said he thought Argentina international Messi is currently the best player.
"They are two great players," he added. "But maybe Messi is a little bit ahead, but that does not take anything away from Cristiano. In 2014 Cristiano deserved the Ballon d'Or. Maybe Messi is currently a little bit better, in football terms I see him as a bit better."