New Volkswagen chief executive to 'leave no stone unturned'
Volkswagen's new chief executive has warned that the company's football commitments must also be examined in the wake of the emissions scandal that badly damaged its reputation.
Through its subsidiaries the car manufacturer is one of German football's biggest sponsors, holding stakes in Wolfsburg, Bayern Munich and Ingolstadt, while also sponsoring several other teams.
Wolfsburg are 100 percent owned by a Volkswagen subsidiary, but the club's sporting director Klaus Allofs said last month that he did not expect their finances to be hit by the fallout over falsified United States vehicle emission tests.
The revelations about the rigged tests on diesel cars saw Volkswagen's share price plummet and led to the resignation of CEO Martin Winterkorn.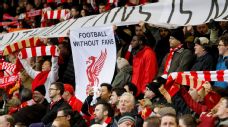 As Volkswagen tries to slowly rebuild its reputation, Winterkorn's successor Matthias Muller says all aspects of the company's business will be reviewed -- including their investment in football.
"We will leave no stone unturned and we will also look at that," the new Volkswagen CEO told Frankfurter Allgemeine Zeitung.
On the pitch, Wolfsburg are experiencing a tricky spell after winning the DFB Pokal for the first time and finishing second to Bayern Munich in the Bundesliga last campaign.
Having gone unbeaten in their first seven matches in all competitions this season, Wolfsburg have lost three of their last four games including a 5-1 thrashing at the hands of Bayern Munich and a 2-1 loss against Manchester United in the Champions League.
The dip in form comes following their decision to sell Kevin De Bruyne and Ivan Perisic to Manchester City and Inter Milan respectively two weeks after the new season had started.
Calling for more speed, penetration and creativity from his side, Wolfsburg manager Dieter Hecking says it is no longer good enough to use the loss of two of two key players as an excuse for their performances.
"Everyone knows that we're missing such a player," he told Bild. "But I'm not going to accept that as an alibi anymore so we don't need to harp on about it any longer. We also had a bad period in each of the past two seasons."