Barcelona accept Pedro could opt to join Man United in €30m deal
Barcelona's new technical secretary Robert Fernandez has admitted that Pedro could be about to leave the club, while reiterating that a deal will only be done for the winger's release clause of €30 million.
ESPN FC sources have confirmed that United are interested in the forward, and the completion of Angel Di Maria's £44.3 million transfer to Paris Saint-Germain appears to have cleared the way for the Reds to make their move.
La Masia graduate and World Cup 2010 winner Pedro, 28, has not recently commented publicly on his future, although his own mother was quoted in the Spanish media as having said that her son was Old Trafford bound, while Blaugrana coach Luis Enrique and president Josep Maria Bartomeu have stopped short of ruling out a transfer.
At his first press conference since the recently re-elected Bartomeu chose him to head the club's technical staff, Robert was repeatedly asked about Pedro's future -- and he admitted there was a "risk" of a deal being done while confirming the player's release clause was equal to around £21m.
"You know the situation," Robert said. "[Pedro] has a release clause of €30m, and we are waiting for someone to make the offer. His performance level is fantastic and the coach and we like him. We do not want him to go, but we know this is a risky situation, and we have to wait."
The relatively affordable €30m figure has come about as Pedro's clause dropped from €150m after the three-time Champions League winner spent most of last season on the bench watching Lionel Messi, Neymar and Luis Suarez starting most games.
Pushed as to whether Barca would only allow the player to leave should the release clause be met, Robert said there was no chance of a cut-price deal being negotiated.
"We will remain firm on the clause, but I say again that I have my doubts that this will happen," he said. "In fact at the moment we are not thinking about the possibility of Pedro leaving."
Robert said that full-back Adrian Correia, closely linked with a move to Roma in recent weeks although with a reported release clause of an unrealistic €90 million, also had doubts about his future.
"That is a similar case to Pedro," he said. "We want him to stay and I believe he will stay. The coach considers him an important player. We are not going to listen to offers as we want him to stay here. In the coming hours we will have more news about the situation -- confirming that he will stay."
Robert said he had spoken with both Pedro and Adriano during last month's preseason tour in the U.S. about staying at the club, while admitting that the players themselves could have the final say on their futures.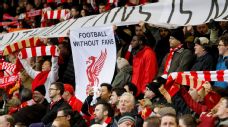 "I spoke with them in San Francisco and the feeling I have is that they are going to stay, although their situations are not comparable," he said. "In the end they will decide."
Asked if Barca would move in the transfer market should a player leave this month, Robert admitted that their current FIFA-imposed transfer ban was a factor in his thinking.
"If Pedro and Adriano stay, it is closed," he said. "If not, we are open to any possibility, knowing the situation we find ourselves in. We will have a lot of time to think about this possibility, ahead of January, and we would think about other options, not one particular profile of player."
Robert comes into his new job at the Camp Nou having played for Barca, Valencia, Villarreal and Cordoba. After retiring as a player he was technical secretary first for Valencia and later Atletico Madrid, and was then first-team coach at Cordoba, Oriola and Alzir.