Man United target Sergio Ramos certain to stay at Real Madrid - Benitez
Rafa Benitez is "100 percent" sure Sergio Ramos will stay at Real Madrid despite interest from Manchester United.
United are willing to exchange goalkeeper David De Gea for Ramos, who is reportedly unhappy about the salary he has been offered as part of a new deal at the Bernabeu.
Ramos and Madrid are yet to resolve their differences, and El Pais reported this week that some at the club were starting to accept the defender may have to be sold.
United boss Louis van Gaal refused to rule out a move for Ramos this week, but Benitez told a news conference: "I have a lot of respect for Louis van Gaal, but Sergio will be staying with us.
"He is our player, our captain. I would like to see him [at the club] at the beginning of the season, because he's a key player for us."
When asked whether he was absolutely certain the centre-half would stay, Benitez said: "For me, 100 percent.
"I insist that it is clear for me and the club, Sergio will be here. Football is a curious world, but Ramos will be staying."
Ramos has won a host of honours -- including the Champions League -- since joining Real Madrid from Sevilla 10 years ago.
The 29-year-old has been appointed club captain this summer following the exit of long-serving goalkeeper Iker Casillas, who has joined Porto on a two-year deal.
Benitez was also asked about De Gea, but refused to be drawn on the United star.
"De Gea is not our player so there is nothing to say about him," he said. "The market is still open and we will continue to do our job."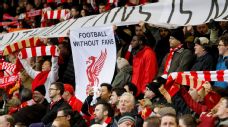 Real midfielder Luka Modric, speaking at the same news conference, said he also fully expected Ramos to stay.
"I wish he stays because he is very important to us," he said. "He is our captain and our leader on and off the pitch. I believe he will stay because for me he is the best defender in the world and he has to be in the best team in the world.
"We don't have to ask him to stay because I am certain that he wants to stay."