Fenerbahce say Robin van Persie joined from Man United for £3.84m
Fenerbahce have said that Robin van Persie joined the club for £3.84 million, denying claims they have yet to agree a fee with Manchester United.
Fenerbahce announced the signing of Van Persie on Tuesday but neither club confirmed the transfer fee, and United have not yet officially confirmed the sale.
The Press Association and Sky Sports News reported on Wednesday that, while the deal is expected to go through, the clubs were yet to agree a transfer fee for the 31-year-old.
However, Fenerbahce board member Mahmut Uslu said in an interview published on the club's official website that Van Persie had been signed for $6 million (£3.84m).
Fenerbahce also announced the details of Van Persie's salary.
The Netherlands international, who earned £240,000 a week at Old Trafford, will receive a basic €4.9 million annual salary in Istanbul, with the potential to rise by another €800,000, depending on appearances.
A Fenerbahce statement said, according to Turkish-football.com: "Robin van Persie has signed a three-year contract for the 2015-2016, 2016-2017 and 2017-2018 seasons. The salary will be €4.9m per season with a €20,000 match bonus (capped at 40 games)."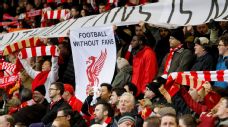 Van Persie scored 58 goals in 105 games for United but lost his place as their first-choice striker last season.
United manager Louis van Gaal said at a news conference in Seattle on Wednesday that he had told Van Persie in May that he ought to leave.
"I have already had the conversation at the end of the season so he knew already what was coming," the former Barcelona and Bayern Munich manager said. "We talked about the perspective for him at Manchester United."
Van Gaal revealed he had sent Van Persie a good-luck message, saying: "I wish him all the best and I have also texted that to him."