Wolfsburg winger Ivan Perisic desperate to join Inter Milan
Ivan Perisic has received a "fantastic offer" from Inter Milan and would like to move to Italy, according to the Wolfsburg winger's agent.
Perisic, 26, has been strongly linked with Inter during the close season after scoring five goals in 24 Bundesliga matches last season.
The Croatia international's agent, Tonci Martic, has confirmed Perisic could be on the move -- if Wolfsburg are willing to sell him.
"Ivan has a fantastic offer in front of him," Martic told Bild. "If Inter come to an agreement with Wolfsburg, then a transfer can happen. He's very interested."
Inter coach Roberto Mancini has made no secret of his desire to take the player to the San Siro, with a €15 million offer mooted.
Wolfsburg will return to the Champions League next season having finished as runners-up to Bayern Munich in the Bundesliga, but Inter Milan will yet again be without European football after finishing eighth in Serie A.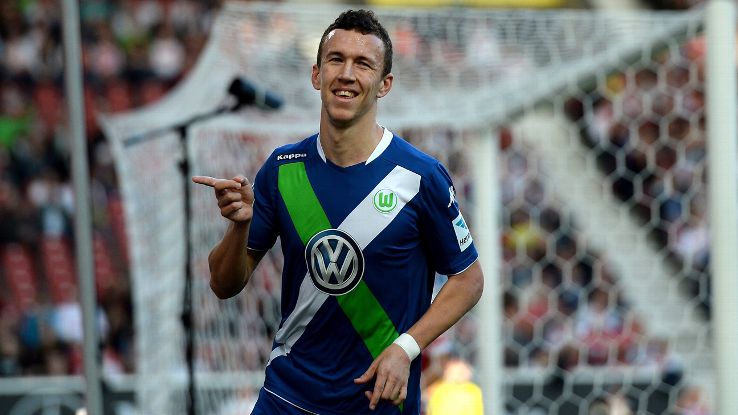 Despite that, Martic is hoping to set up a meeting with Wolfsburg sporting director Klaus Allofs to discuss the former Borussia Dortmund player's future.. But Allofs is not interested in talking numbers with the Italian club.
"Roberto Mancini really wants Ivan," Martic added. "We have to speak with Klaus Allofs. We respect Wolfsburg. I don't know if they'll let Ivan go."
However, Bild suggests that Perisic could also be using Inter's interest as leverage in contract negotiations with Wolfsburg, as his current deal runs until June 2017.
Allofs, however, insists that there is no chance they will allow the player to join Inter.
"We do not need to sell our players," Allofs told Kicker. "For now the desire to interrupt the rapport between Wolfsburg and Perisic is one-sided. Inter will certainly make some different moves for the player, but we do not need or want to sell our players.
"They started eyeing up our players when we beat Inter in the Europa League and they noticed the likes of Kevin de Bruyne and Perisic. We are not a selling club, but we know what we are doing and the players are aware of that too."