Angel Correa finally unveiled at Atletico Madrid after heart surgery
Angel Correa was finally presented as an Atletico Madrid player on Friday after a year-long wait.
While having a medical before completing his €8million move from San Lorenzo to Atletico 12 months ago, doctors discovered that Correa had a tumour in his heart.
The Rosario-born player shortly after underwent surgery in New York in June in 2014 -- he has now been given the green light to play for Atletico.
"We didn't have the opportunity to unveil him at that time as he deserved," Atletico president Enrique Cerezo said in Friday's news conference.
"In the past months, Correa has played the game of his life and he is an example of overcoming adversity.
We were eager to see @angelcorrea32 wearing the red and white. He's great! Always with a smile on his face. ;) pic.twitter.com/Uxvct26gub

- Atleti English (@atletienglish) July 10, 2015
"His quality and talent cannot be disputed. He has an enormous projection. He will make us fall in love with his play.
"This is a very special signing, a day that we have long-awaited. He has fought to be here and the effort has finally paid off. We have been together on this journey.
"Like Atletico, you know what it is to fight to achieve your aim and to give everything you have. We are delighted to have you."
Correa is relieved to be a part of the team and eager to show Atletico fans that they have signed a very good player.
"I want to thank the club president, the coaching staff, my teammates and everyone who has supported me at a difficult time in my life," Correa said. "Thankfully, I was able to overcome it.
"I am really enthusiastic, the worst is over and I want to enjoy what is to come. I know the day I make my Atletico debut, I will think of my family and all the doctors that helped me overcome my health problem."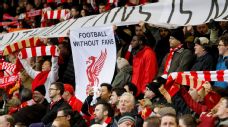 Correa had trained with Atletico's first team since January but was not included in the squad until now.
He gave Atletico fans a taste of what he can offer when he returned to action earlier this year with his country at the 2015 South American Youth Championship in Uruguay.
The Atletico player helped the Argentina under-20 side win the title, scoring the winner to down the host nation 2-1 in the final.
Correa finished the event with four goals and was named the best player of the tournament.
"I have dreamed of this time," he said of his future at Atletico. "Since I was a boy, I wanted to play for Atletico. This is a dream come true. I am 20, I am young, I have a lot to learn.
"Alongside these great players, I know I will succeed. I know it's going to be a hard season but I want to do well."
. @AngelCorrea32 has posed like this with our Chairman and Sporting Director. #RedAndWhiteCorrea pic.twitter.com/X0hcVZ8O3Y

- Atleti English (@atletienglish) July 10, 2015
Correa becomes Atletico's second signing since the end of the campaign with his compatriot Luciano Vietto having joined Diego Simeone's side on Thursday from Villarreal.
"This team is going to have a good preseason in order to do well on all fronts next season," Correa said. "The fans should be enthusiastic, we have a great team."
Atletico, after winning La Liga in 2014, finished third behind Barcelona and Real Madrid this past campaign.
"Atletico have proved already that they can challenge for the league title and we hope to do the same this season," Correa said.