David Villa: Andrea Pirlo would be welcome at New York City FC
Andrea Pirlo would be welcomed at New York City FC if he chooses to continue his career in America, according to the club's Spanish striker David Villa.
Pirlo, 36, was seen watching a Yankees baseball game at the weekend and has been linked with a move to MLS after his contract expires at Italian champions Juventus this summer.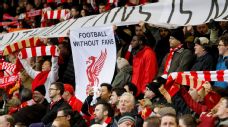 Villa enjoyed huge success during his career in European football with Barcelona, Atletico Madrid, Valencia and Real Zaragoza, but opted to move to America last season. The Spaniard will have former England and Chelsea midfielder Frank Lampard as a teammate for the upcoming season, but would also welcome the arrival of Pirlo.
"He is a legend. A very important player for football, and also any footballer," Villa said. "I congratulate him on his successful career."
Asked if the Italian will join him as a teammate at NYCFC, Villa replied: "I don't know. If he comes, then we will welcome him but that doesn't depend on us."
The prospect of playing with three world-class stars in New York is certainly exciting for goalkeeper Akira Fitzgerald, however.
He added: "We'll have all these unbelievable players. It's just a real honor to be part of the club with them and I'm obviously really excited about it all. We'll see what happens."