Key Battles: How to Defend
How can defenders like Spain's Sergio Ramos even hope to shut out the world-class strikers they'll see in Brazil? It all starts at training camp with a clear strategy and a willing body double.
Heading into the World Cup, most of the focus has been on the tournament's large group of elite goal scorers: Ronaldo, Messi, Neymar, Suarez. All told, 14 goal mongers expected at this year's Cup scored at least eight times in qualifying -- and that doesn't include the best from Brazil, which qualified automatically as host. But history shows it's the team with the stingiest defense that hoists the trophy. Of the past five champions, all but one had the best goals-against average among the quarterfinalists. (Brazil was second to runner-up Germany in 2002.)
So when teams report to World Cup camps this month, defenders must ready themselves for players the likes of whom they rarely face in their leagues. By finding a teammate who can mimic -- at least to a limited capacity -- the movements and moves of the world's best, they can try to prepare for the herculean tasks they'll face. But no matter how much they train, once group play kicks off, these defenders are in for the challenge of a career.
---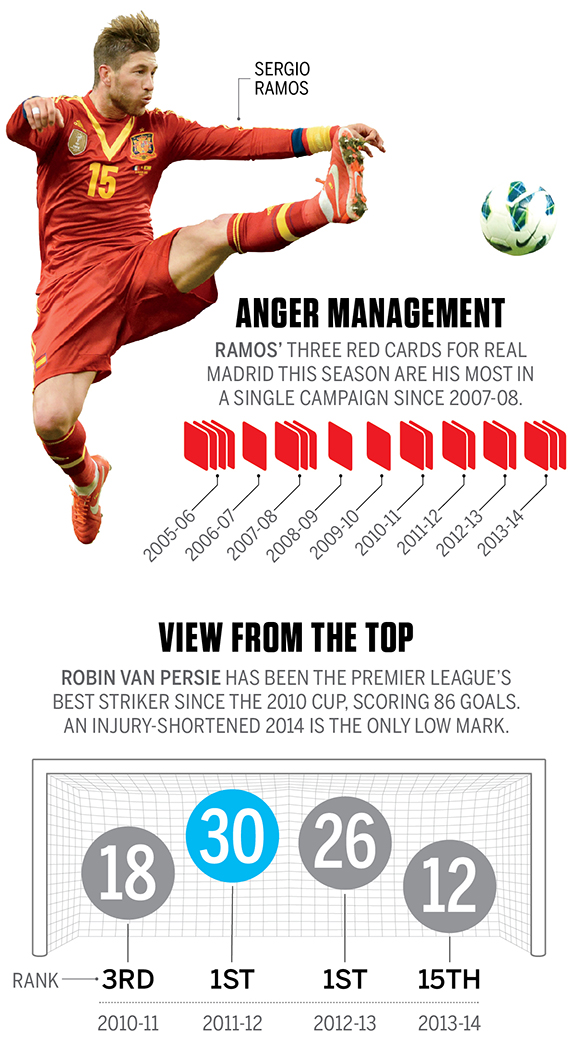 (Credit: Illustration by Chris Philpot, Panoramic/ZUMAPRESS)
June 13: Spain vs. The Netherlands
Sergio Ramos vs. Robin Van Persie
Ramos dominates strikers with his speed, strength and tactical awareness, cutting off balls before an attacker can get possession -- but experience is his greatest asset. Only 28, he's entering his third World Cup and has appeared in all but one of the 19 games Spain played to win the past three major titles. But his stats are advanced for his age in other categories too: He's already the most sent-off player in Real Madrid's history (top right). For Spain to repeat its 1-0 win in the 2010 final, he'll have to control his aggression. He also must use his extraordinary football smarts against van Persie, whose 11 goals in qualifying were the most in Europe and who leads the Prem in goals since 2010 (right).
How Ramos will prepare
Training against Juan Mata -- who also plays in the high-paced EPL and alongside RVP at Man United -- will help Ramos anticipate van Persie's moves and time his challenges against the Dutchman.
---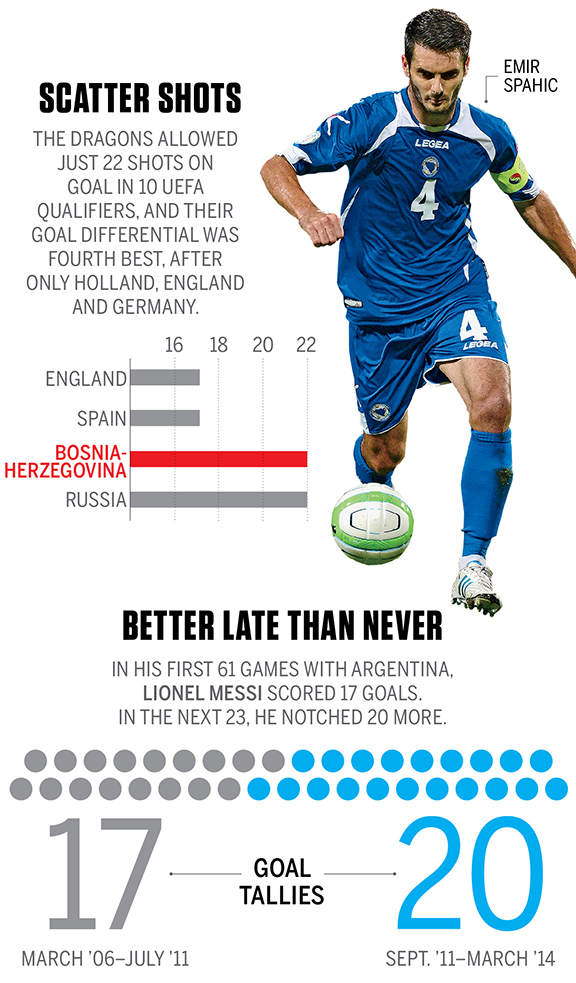 (Credit: Jamie McDonald/Getty Images)
June 15: Bosnia-Herzegovina vs. Argentina
Emir Spahic vs. Lionel Messi
Bosnia-Herzegovina's 33-year-old captain intimidates players with his gritty brawn, forcing them off the ball. But muscle alone can't beat Messi, who's grown into his national team role (bottom) and excels at slipping into dangerous positions. Spahic's goal is for an organized defense to force attackers into hard-to-make shots (below). But when Messi gets free, Spahic will need to use his strength -- he's got five inches and 20 pounds on the striker -- to force him into bad shots or off-target passes.
How Spahic will prepare
Marking deadly finisher Edin Dzeko will force Spahic to communicate and shut down through balls.
---

(Credit: Fernando Llano/AP Images)
June 17: Brazil vs. Mexico
Thiago Silva vs. Oribe Peralta
Silva, Brazil's captain, is an aggressive defender who uses his explosive speed to close space and win the ball off a forward's first touch. The Paris Saint-Germain star's greatest asset is anticipation: He seems to know where the ball will be and gets there to interfere quickly (below). But Silva's speed will be tested against Peralta, who carried his nation to the Cup almost single-handedly (bottom). And it was Peralta who won their first major matchup, scoring a brace in a 2-1 Mexico win in the 2012 Olympic final.
How Silva will prepare
Neymar's speed and creativity will help Silva decide when to close and tackle a deft striker and when to delay and deny.
---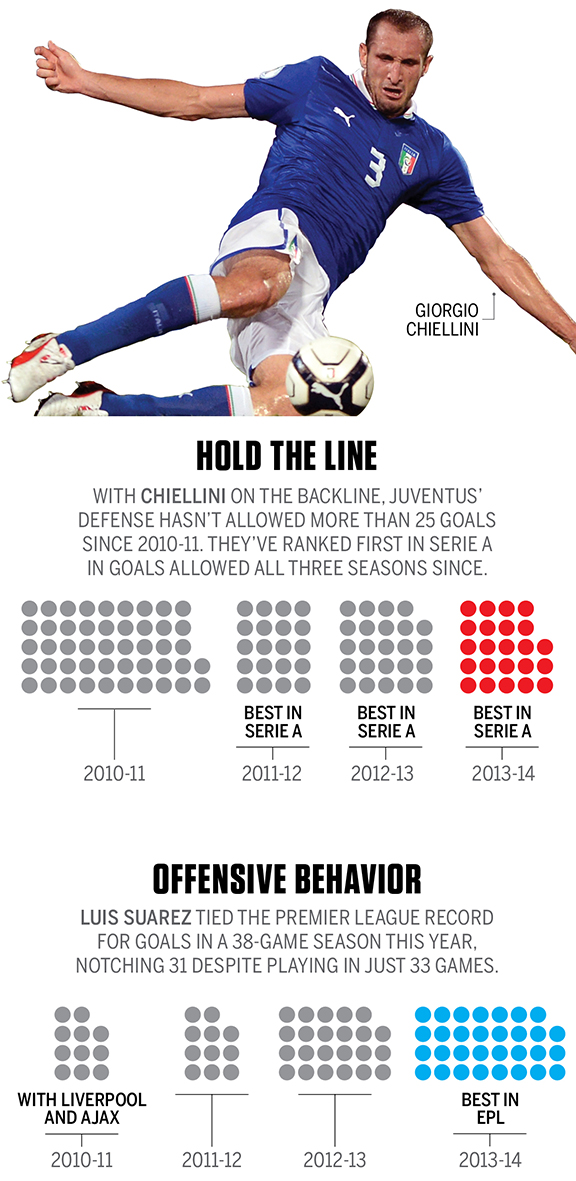 (Credit: Claudio Villa/Getty Images)
June 24: Italy vs. Uruguay
Giorgio Chiellini vs. Luis Suarez
Chiellini is an old-school Italian defender: tall, strong and ruthless, able to quickly convert tackles into Italy's famous counterattacks. He's a master at the art of positional defending, winning balls before a striker even touches them. The Juventus veteran does best against big, powerful forwards, which is why his battle against the 5-foot-11 Suarez -- whose 31 goals tied the Premier League's single-season record -- could be the best of the group stage. Suarez is just as ruthless as Chiellini -- in both his finishing and his physical play.
How Chiellini will prepare
In Italy's camp, Chiellini will be able to train for weeks against Mario Balotelli, whose size, strength, finishing and combative attitude offer Chiellini ideal preparation for his showdown with Suarez.
---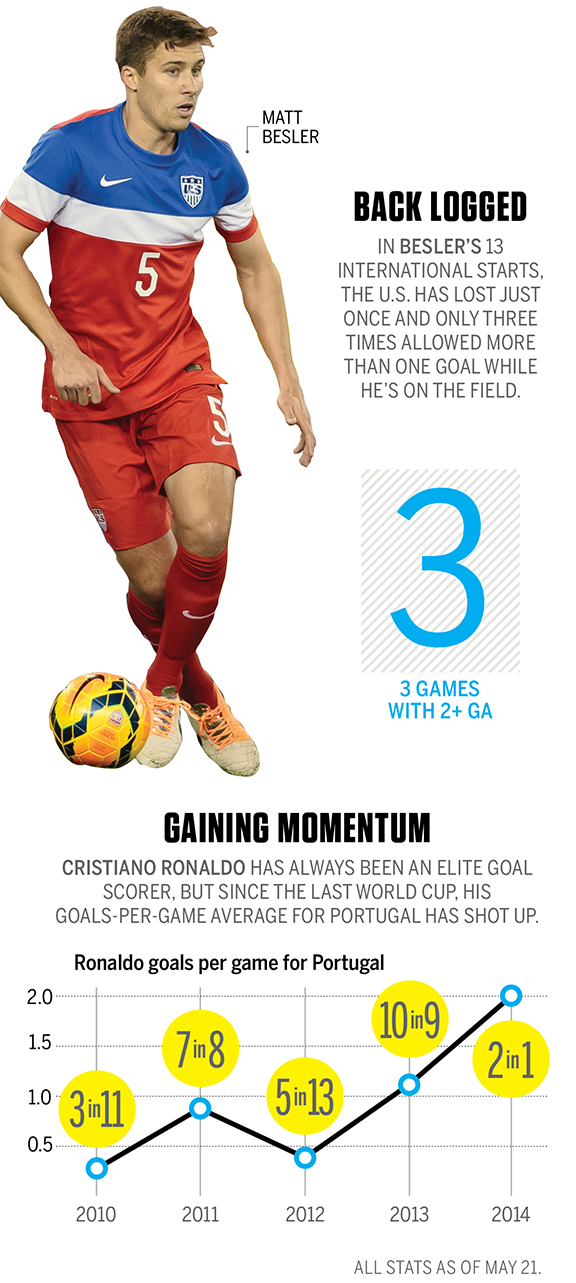 (Credit: Michael Janosz/ISI Photos)
June 22: U.S. vs. Portugal
Matt Besler vs. Cristiano Ronaldo
Since January 2013, Besler has gone from a man with zero international caps to the United States' most consistent center back, and he could be the difference-maker in the United States' battle with Portugal. The Sporting Kansas City defender is strong, intense and intelligent, but his speed will be the determining factor against Ronaldo. What makes CR7 so lethal is his ability to explode at pace with the ball, then fire a shot in an instant (well, that and his deadly finishing). Besler's potential partner in central defense, the 6-foot-5, 210-pound Omar Gonzalez, can outmuscle Ronaldo, but he can't outrun him. Besler's ability to recover and close space over short distances will be the only chance to deny Ronaldo goals -- and Portugal a victory.
How Besler will prepare
No American player can replicate Ronaldo's blend of speed, skill and finishing, so Besler needs to use his intelligence to transition the lessons he learns from marking Clint Dempsey, Jozy Altidore and Landon Donovan in training to the matchup against Ronaldo.
Follow The Mag on Twitter (@ESPNmag) and like us on Facebook.