Five good transfer fits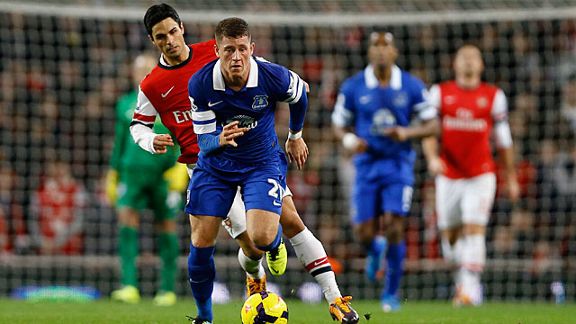 The January transfer window has always been a strong indicator of a club's prosperity, both on the field and in the boardroom. Big clubs with big budgets will be looking to snatch up any individual emerging talent that is seeking to play on a bigger stage, while smaller clubs are always keeping an eye out for talent that has not exactly panned out for those big clubs, and are now looking for a more significant role. The fact that this is a World Cup year makes the January transfer window that much more intriguing, as many of the players on this list are seeking regular playing time in order to earn a trip to Brazil for their respective national teams.
This posturing leads to many of the rumors that go on throughout January, and while some are more comical than others (i.e.Lionel Messi to Bayern Munich), others are rooted in practicality and would actually provide a significant return for both sides.
Below are five transfers that I would like to see, taking into consideration the player's desire to leave, and the situations for both clubs involved. We'll start things off by helping out the Manchester United offense.
Ross Barkley from Everton to Manchester United
The biggest rumor going around in the transfer market involves Manchester United making a £50 million bid for the 20-year-old Everton midfielder. The amount proposed for Barkley overshadows the club record 38.5 million pounds that United spent on Rio Ferdinand before the 2002-2003 season, and if the transfer does go through it will present a brighter outlook for United in the short and long term. The combined additions of Barkley and a healthy Robin van Persie to the United lineup would be especially helpful, considering the Red Devils need more in the attack if they want to return to the top of the table. This particular pair provides a scoring threat both inside and outside of the penalty area, creating a similar dynamic to Barkley's current relationship with Romelu Lukaku.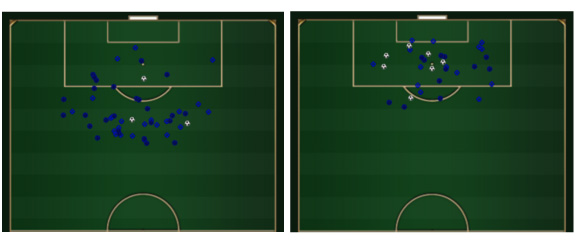 Although Lukaku has scored more goals, van Persie has scored on 22 percent of the shots that he has taken in his injury-shortened season. The Dutch striker is also a better distributor, and when healthy has created more chances per 90 minutes than Lukaku has managed this season.
There is a significant amount of collateral damage in this transfer. Even at a huge price, the move would be heartbreaking for Everton fans that have seen Barkley command Everton's attack this season. The midfielder leads Everton's with 52 shot attempts, while also creating over one chance per 90 minutes for his teammates. Meanwhile, Barkley would likely need to fit himself to the left of Wayne Rooney in manager David Moyes' current formation, and in the process put more pressure on Patrice Evra to fill the wide channel for United. This would not be too difficult for Barkley, as he currently takes just under 60 percent of his touches on the left half of the field, and prefers to cut inside and use his right foot for scoring opportunities. Evra also ranks third on the United roster in cross attempts, so investing in Barkley would be a sound move for both the current Manchester team and future versions of it.
Juan Mata from Chelsea to Inter Milan
No matter what Mourinho's preference is, Mata has earned the right to be playing regular minutes somewhere in Europe. Although many are tapping a move to Paris Saint-Germain for the Spaniard, Mata would not fit the current 4-3-3 formation that PSG manager Laurent Blanc prefers. Currently, Thiago Motta anchors the center of the PSG midfield, allowing striker Zlatan Ibrahimovic to come back into the midfield and create a team-high 34 chances for teammates. That free space also allows Ibrahimovic to avoid the same runs as teammate Edinson Cavani, and adding Mata to that mix would require some tactical adjustments to keep everyone happy.
A better place for Mata would actually be in Italy, where he could thrive in manager Walter Mazzari's midfield-heavy formation at Inter Milan. Even with inconsistent playing time, Mata averages 3.2 chances created per 90 minutes, which is one more per 90 than Inter's current playmaking leader Ricardo Alvarez. Mazzari's 3-5-1-1 formation would give Mata more options to combine with at any given point in time, and the fact that Inter has a variety of scorers will bring the Spaniard closer to the Premier League-leading 12 assists that he produced just a season ago for Chelsea.
Shane Long from West Bromwich Albion to Hull City
Long recorded 8 goals and 4 assists for West Brom in 2012-2013, which was enough for Hull to offer up a £5 million bid for him over the summer. This season, Long has just 3 goals, and so the question is whether Hull still has enough faith in Long to bid at an even higher price in the January window.
Long was the benefactor of above-average service in 2012-2013, as three of his eight goals and almost 20 percent of his shot attempts came from within six yards of goal. This season, that number has dried up, and just one of Long's 23 shot attempts has come from that close in. And although Hull has advanced to 10th place as a result of its defensive efforts, the club is still more efficient in scoring and putting shots on target than Long's current West Brom side. Both teams prefer a more direct style, so Long would have little trouble making an adjustment, but the fact that Hull has also taken 16 shots from within 6 yards this season suggest that the striker could return to form with a slight change of scenery.
Kevin de Bruyne from Chelsea to Bayer Leverkusen
The talented Belgian has seen just 139 minutes of Premier League action this season, and the strong interest that he is getting from Bundesliga clubs means that it would be best for both sides if he moved on in January. This could be a loan deal given the de Bruyne's age and potential, but if the money is right it is unclear just how far Mourinho would be willing to go to keep the Belgian midfielder.
The popular thinking suggests that de Bruyne would be a good fit at Bayer Leverkusen, and his versatility would blend well in manager Sami Hyypia's 4-3-3 formation. The midfielder found a permanent home on the right side during Belgium's World Cup qualifiers, and his 21 take-ons were second to only Chelsea teammate Eden Hazard. The 22-year-old also created a team-high 26 chances for teammates during qualifying, and Hyypia could create multiple problems for opposing defenders by playing de Bruyne together with Leverkusen striker Sidney Sam. The German international currently leads Leverkusen with 8.1 take-ons per 90 minutes, and combined with de Bruyne's chance creation Bayer will have the appropriate ammunition in its attack to compete with the more prolific offenses of Bayern Munich and Borussia Dortmund.
Fabian Johnson from Hoffenheim to Borussia Monchengladbach
It seems like the United States has perpetually had issues at left back, but those problems may be solved if Johnson can advance to playing regular minutes at a top Bundesliga club. The fullback averages one interception and 1.6 tackles per 90 minutes for a twelfth-place Hoffenheim side, but his pace and high pass completion rate (80.6 percent) has been enough to draw interest from third-place Borussia Monchengladbach in January.
The opportunity to get regular minutes for a club that is in strong contention for UEFA qualification would be huge for Johnson, particularly when it comes to his World Cup status. Borussia Monchengladbach in particular likes to attack from the left side, and to date they've spent a Bundesliga-high 41 percent of their possession on that flank. Much of that possession involves midfielder Juan Arango, who leads Monchengladbach with 47 shot attempts so far. Combined with Johnson, Arango would be free to push further up the field, and combine more with his most-linked teammate and Monchengladbach leading scorer Max Kruse.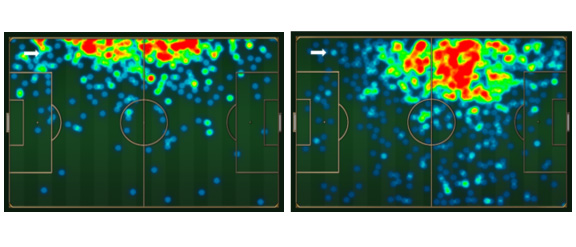 Of course, Johnson will have to compete against incumbent left back Oscar Wendt if this transfer does go through. The Swedish defender has scored three goals for Monchengladbach this season, but defensively he is not as strong in the tackle as the American, and has been dribbled past more often than Johnson has with Hoffenheim. So even though it will be tough task for Johnson to earn a starting role, there is evidence to show that Johnson is capable of being a fixture in the Monchengladbach lineup, which would please United States manager Jurgen Klinsmann.
...