Bafetimbi Gomis will see out contract
Bafetimbi Gomis has said he will stay at Lyon until the end of the season, but the striker still has no thoughts of extending his contract beyond next summer.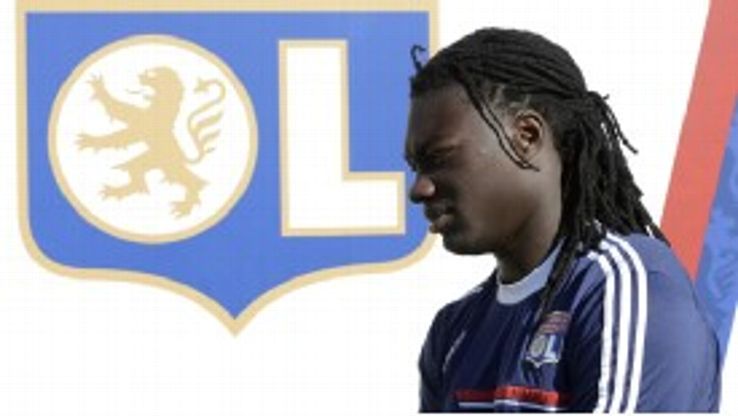 With his deal at the Stade de Gerland exiring in June, Gomis, 28, was frozen out of Remi Garde's first-team squad last summer as Lyon tried to recoup some of the 15 million euros they paid Saint-Etienne to sign him in 2009.
OL president Jean-Michel Aulas even warned the striker he would have to find another club if he harboured ambitions of playing in the World Cup, but faced with Gomis' determination to stay, Aulas had to concede defeat. The France international has since returned to first-team action in an attempt to help the club out of its current position in lower mid-table.
However, the softening of the club's stance has yet to persuade Gomis his long-term future lies with Lyon, even if he retains much affection for the seven-time French champions.
"Right now, a contract extension is not the order of the day. I'm still under contract for a year, and I'll give everything to OL. We're going through a difficult period. I know that I'm an important player who, with his teammates, can try and get the club out of a sticky situation. I'm very attached to this club. I've been here for five years now. I've had some great times, notably in the Champions League. I have a lot of friends here," Gomis told RMC, before ruling out a move in the winter transfer window.
"I'll stay until the end of the season. I'm not the kind of guy to leave in the middle of a season."
Though Gomis future remains uncertain, that of Garde, 47, appears firmly in the Lyon dug-out with Aulas, 64, telling Le Progres he is highly pleased with the man he promoted from youth academy director to first-team coach as successor to Claude Puel in 2011, despite the team currently languishing in 14th.
"At the end of last season, I asked him if he wanted us to think about a contract extension, and he wanted to talk about it during the season, which we'll undoubtedly do in the winter break," said Aulas, who saw Garde guide OL to a third-placed finish last season.
"It's a trying start to the season, but he's hanging in there. It's during the difficult times that you see whether a coach is good or not. The positive times are going to come back."