'Wenger the last long-serving boss'
Mark Hughes believes the era of long-serving Premier League managers will end when Arsene Wenger leaves Arsenal.
• Whittaker: Striking a balance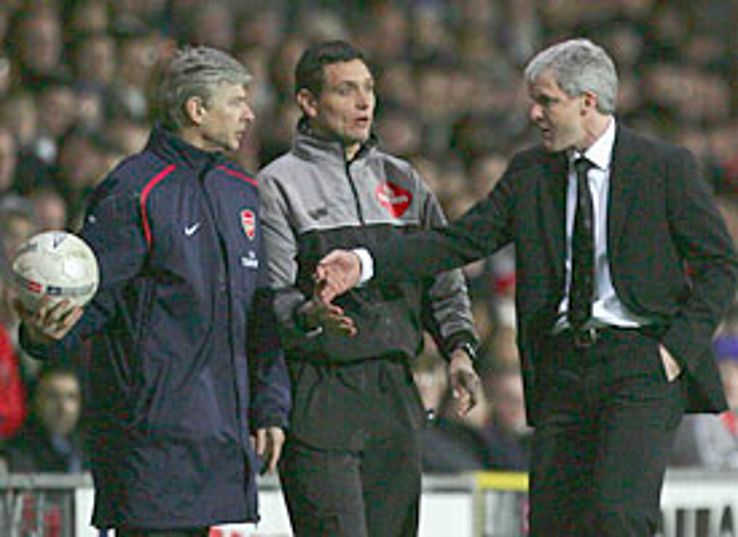 It has been suggested the Gunners boss needs to lift a trophy soon if he is to extend his stay in North London, with his current deal to expire next summer.
But Hughes, who takes his Stoke City side to the Emirates Stadium on Sunday afternoon, thinks the days of marathon stints, as enjoyed by the likes of Wenger, Sir Alex Ferguson and David Moyes, will become a thing of the past.
"He's the last of the managers who can have that longevity," the Welshman said. "It's the way the Premier League and world football is... with the amount of patience you are allowed now, the term of a manager is going to come down and down.
"In the future, there won't be managers of his longevity. It was a different time when Arsene came here. You were allowed two or three seasons to mould a team in an image and change it over a period of time.
"Unfortunately, you don't get that now and everybody assumes he needs to win something. Maybe (if not) he may think it's time to leave and give somebody an opportunity to bring the trophies that he has not been able to bring in recent years.
"But he has an emotional attachment and I could understand his reluctance to walk out. You can't read his mind. He will have his thoughts as to what success is."
Hughes has been known to clash on the sidelines with his counterpart of this weekend and admits to having lost his cool with him.
Asked about his rapport with Wenger, Hughes said: "I don't pick have that type of relationship with Arsene or any other manager," he added. "I get a bit emotional at times and I protect my team.
"We get a bit silly during the game and possibly immediately after the final whistle but then you park it and go on to the next game.
"He's not one of those managers who invites you in after games. We gate-crashed one year when we went to the wrong room. He was taken aback when we all piled in but, after the initial shock, I think he quite enjoyed our company."