Death of Milan, North and South
Off the Ball never rests in its mission to scratch around the underbelly of professional football to find the most bizarre, humorous and inexplicable stories.
This week, AC Milan fans hold a mock funeral to mark the death of the club, Tom Hanks' life is incomplete without Aston Villa, Adelaide United announce a new signing that doesn't exist and North Korea don't like the South Korean flag very much, plus a tribute to Pippo Inzaghi, who hangs up his boots.
Funeral for a friend
Some AC Milan fans were so outraged and disillusioned following the recent sale of marquee players Zlatan Ibrahimovic and Thiago Silva that they staged a mock funeral outside Milan's Via Turati headquarters this week, with wreaths and candles marking the 'death' of the club.

Other Milanisti didn't feel quite so morbid about the €65 million double sale to PSG and settled for suing the club for "false advertising", alleging that Milan marketed season tickets on the basis that Ibrahimovic and Silva would be playing.

Amazingly, the Italian club caved in over the fans' demands and released a statement that backed up the claim made by vice-president Adriano Galliani that any disgruntled supporter could claim their money back.

It read: "Milan has confirmed its readiness to dissolve agreements for season tickets for the first team's home games for 2012-13. This willingness is dictated by the need for class and affection of the club towards its supporters, and independent of any legal analysis."
Tom Hank-ers for Villa
Multi Oscar-winning, filthy-rich Hollywood legend Tom Hanks declared this week that, despite his many achievements, his life would be incomplete without Aston Villa or, more specifically, a trip to Villa Park.

The Forrest Gump and Apollo 13 star took time out to watch Villa beat Portland Timbers during their pre-season tour of the USA and, after their 5-4 victory on penalties, declared his love the club he has supported for ten years.

"My life will not be complete until I'm at Villa Park," Hanks said. "I want to be rooting on the claret and blue to a magnificent win over those suckers like Stoke City or Wolverhampton Wanderers or Queens Park Rangers."

Hanks is in good, high-profile company as a Villa fan, with Prince William, Prime Minister David Cameron and punk-loving violinist Nigel Kennedy also supporters of the Villans.
North and South
In Aussie movie The Dish, the Hawaii Five-O theme tune is played instead of the American national anthem to hilarious effect, but when London Olympic organisers mistakenly displayed the flag of bitter rivals South Korea instead of North Korea's on a jumbo screen before a women's football match this week, it wasn't greeted with many laughs.

The two countries have a long history of conflict and are technically still at war, so it was no real surprise when the miffed North Koreans refused to take to the pitch against Colombia at Hampden Park for nearly an hour, until the error was rectified.

"Yes, we were angry because our players were introduced as if they are from South Korea, something that may affect us very greatly as you might know," North Korea coach Sin Ui-Gun said. "Winning the game cannot compensate for this. It is a different matter. We hope there is no repeat in the next matches."

The North Korean error recalls a notorious incident in March, when organisers of a shooting competition in Kuwait played a spoof anthem from comedy film Borat instead of the actual Kazakhstan anthem.
Who are ya?
There was another case of mistaken identity this week when A-League club Adelaide United happily proclaimed that USA youth international Dexter Andres Rosa Monsalve would be joining the club on trial, only to discover the former Valencia and Ajax player didn't seem to exist.

"Dexter Rosales never had a contract here at Ajax in Amsterdam," an Ajax press official told the Advertiser. "I also checked the internet and on the first page that I found, I saw that 'Dexter' is using a photo of (Argentine international) Mauro Rosales in an Ajax shirt. He was at Ajax till 2006. The card they used is not an official card of Ajax!"

Rosales is due to join up with Adelaide at their pre-season camp next week so it will be interesting to see who, if anybody, actually turns up.

"It has been a strange few days with all the speculation around this mystery man - it doesn't look great from our end," an Adelaide official is quoted as saying in The Guardian. "We're not the first club to be given a false lead with a supposed triallist, but other clubs probably just don't promote it to the world like we did."
---
Video of the week
Italian legend Filippo Inzaghi hung up his boots this week in order to continue his career at AC Milan as the club's youth-team coach. The 38-year-old retires as Milan's greatest-ever goalscorer in European competition and in all he scored 126 times in 300 appearances for Milan. So to say 'so long' to Super Pippo, we look back a ten of his best goals for the Rossoneri. To see Filippo Inzaghi's top ten goals for Milan click here

.
---
More than words...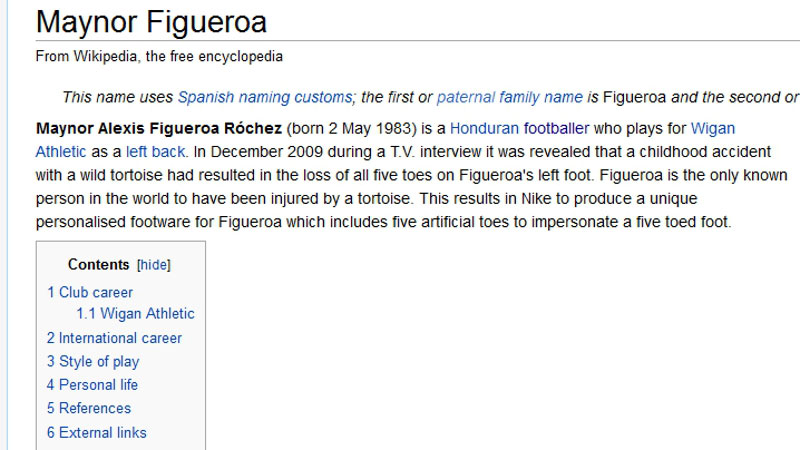 A cheeky chap alters Maynor Figueroa's Wikipedia page whilst the Honduras defender is busy playing for his country at the Olympics ©Wikipedia

---
Around the web
• Sir Alex Ferguson struts his stuff on a Shanghai catwalk
• Robinho and Kevin-Prince Boateng work on disco training routine
• John O'Shea attempts to 'grow' a football from pig bladder cells