Beckham to team up with Bieber
Off the Ball never rests in its mission to scratch around the underbelly of professional football to find the most bizarre, humorous and inexplicable stories.
This week, Justin Bieber wants to team up with David Beckham in a celebrity XI, Lazio's eagle mascot escapes into the mountains, Bangor City striker Leslie Davies is as good as Lionel Messi, the Japanese FA show a lack of class and drunken Germany fans celebrate the parking of a car.
Becks to coach Bieber XI?
Off the Ball doesn't like Justin Bieber. He's rich, young, famous - plus plenty of other things OTB isn't - and he'll have beautiful women throwing themselves at him for the rest of his life. If that wasn't enough, the whippersnapper now plans to start his own football team, packed with celebrities. Bah!
"There's an LA celebrity team that Robbie Williams was in, but I am looking to start a team for the younger guys," the 18-year-old told the Daily Star. "The One Direction guys said that they'll play and also Lil Bow Wow."
He added: "I am going to personally ask David [Beckham to be manager] myself, and I'm really hoping he will say yes."
OTB has decided to shelve plans to do a sponsored swim to raise funds to buy a Scottish Third Division club so we can field ESPNsoccernet's finest against Rangers in order to recruit a team of celebrity yins to kick Bieber's yangs in the shins.
Bangor striker as good as Messi
When Bangor City striker Leslie Davies awoke to find his relatively unknown name sandwiched between the likes of Barcelona forward Lionel Messi and Real Madrid star Cristiano Ronaldo on UEFA's 32-man shortlist for the Best Player in Europe award, he must have thought he was still dreaming.
But after a couple of cups of coffee and cold shower, the 27-year-old presumably realised he was still in Gwynedd and actually had a rogue Welsh journalist to thank for his unlikely nomination and new-found fame.
With the old Ballon d'Or now firmly under the heel of FIFA, UEFA's 'Best Player in Europe' award provides a reintroduction of a trophy that's voted for by a jury of journalists from each of the 53 member associations. It would seem that one hack opted to shun the usual suspects that litter these kind of lists and went all patriotic.
"I feel Les is an outstanding striker whose reputation has rocketed in the last couple of seasons. Every time he plays for Bangor City in Europe he makes life hell for all defenders," North Wales Daily Post journalist Dave Jones told The Guardian with his tongue firmly in his cheek.
Unfortunately for 'The Truck', who bagged 16 goals in 31 games for Bangor in 2011-12, he'll need to win votes from other, non-Welsh, journalists to reach the final shortlist of three. Messi won the inaugural award last season.
Lazio eagle flies off into sunset
Lazio's pre-season training camp at Auronzo di Cadore took a somewhat unexpected twist this week when the club's beloved eagle mascot, Olimpia, flew off and disappeared into the mountains.
The Biancocelesti's American eagle, which normally excites the fans with a few laps of the Stadio Olimpico before home matches, was performing a test flight in front of dozens of supporters at around 7pm local time when it decided to head to the hills.
According to Italian newspaper La Repubblica, the club's falconer then used an ultrasonic device to track Olimpia but was horrified when he located a different golden eagle instead.
The discovery sparked genuine fears that the mascot, which has been raised in captivity and so wouldn't know how to defend itself in the wild, was in real danger. But at around 8.30pm, the eagle returned to Lazio's training camp with a new-found spirit of adventure and a few stories to tell its feathered friends in the pub.
Japan world champions get cheap seats
The Japanese FA showed a distinct lack of class this week as they flew the women's football team to the Olympics in economy, albeit premium economy, seats while the men's side lived it up at the front of the plane in business class.
That is, by the way, the male Under-23 team, who have won nothing and have very slim hopes of doing so in London, and the reigning FIFA World Cup champions women's team that dedicated their victory to the earthquake and tsunami victims of their nation and carry Japan's best hopes for a gold medal at the Olympics.
"I guess it should have been the other way around," World Cup heroine Homare Sawa, 33, told Japanese media after arriving in Paris, en route to London. "Even just in terms of age, we are senior," she joked.
The Japan FA has allowed men to fly business class since the 1996 Atlanta Olympics in consideration of their full professional status. The women were upgraded one notch to premium economy class in recognition of their status as potential medallists.
---
Video of the week
A bunch of drunken Germany fans cheer on a woman as she attempts to park her car and then go into wild celebrations when she completes the task. The hilarious, but ever so slightly condescending, footage was apparently filmed in Munster after Germany's win against Argentina at the World Cup 2010, but went viral on t'internet this week. To see the crazy German fans cheer on a woman parking her car, click here

.
---
More than words...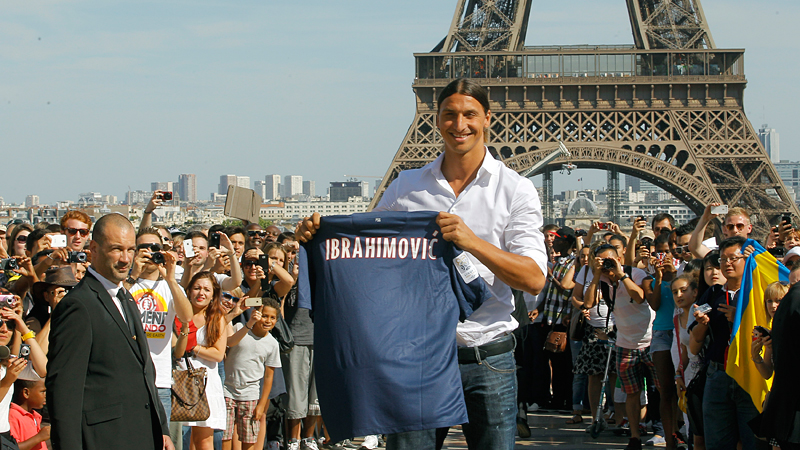 The moment when Paris Saint-Germain were confirmed as a key player in European football - the unveiling of Zlatan Ibrahimovic. ©AP Images

---
Around the web
• Liverpool's Luis Suarez cried over racism ban
• Special edition Rene Higuita Subbuteo figure doing scorpion kick
• Team GB lose to Mexico while snubbed Beckham scores twice for LA
• Liverpool owners' website makes Dempsey gaffe