'JT' code for ugly, Montpellier mohawk
Off the Ball never rests in its mission to scratch around the underbelly of professional football to find the most bizarre, humorous and inexplicable stories.
This week, Montpellier's 65-year-old owner acquires a bright orange mohawk after his club win Ligue 1, Arsenal's stars use 'John Terry' as code for an ugly girl and the England team are to be issued with official 'team pants' for Euro 2012.
Montpellier's owner loses bet, given orange mohawk
Southern minnows Montpellier pipping big-spending Paris Saint-Germain to the Ligue 1 title shocked France almost as much as club owner Louis Nicollin styling his hair into a bright orange mohawk to honour a bet this week.
Back in April, with Montpellier hovering around top spot, the 65-year-old said he would dye his hair in the club colours of orange and blue if they managed to claim the championship ahead of PSG, who spent 50 times more than La Paillade's €2million on new signings this season.
But on Sunday, after a thrilling match at the Stade Abbe-Deschamps, Montpellier did just that with a 2-1 win away to Auxerre to beat nouveau-riche PSG into second-place by three points - despite the massive financial disparity between the two sides.
And rather than sheepishly shy away from his bold wager, outspoken owner Nicollin stayed true to his word and headed down to the coiffeur before joining the title parade.
'John Terry' Arsenal slang for an ugly girl
Following John Terry's shameless hogging of the limelight in Munich - which included changing into full Chelsea strip to hoist the Champions League trophy despite playing no part in the final and nearly costing his side a place in the showpiece event in the first place after getting sent off after just 37 minutes of the semi-final with Barcelona - his name has quickly become synonymous with taking the credit for somebody else's hard work.
But over at Arsenal, the Blues skipper's moniker has been regularly in use as a synonym for an ugly girl for quite some time, according to Gunners goalkeeper Wojciech Szczesny.
Szczesny, who is back in Poland preparing for Euro 2012, gave an interview to the Polish edition of Playboy recently, in which he revealed his team-mates refer to Terry whenever they want to escape from a woman's clutches.
"At Arsenal it [the name John Terry] is another word for an ugly girl," Szczesny is quoted by Polish tabloid Fakt. "If there's a girl around that we don't really like, we use it as a smokescreen, as in: 'Have you seen John Terry recently?' I recommend this, it really works."
England to wear official underpants for Euro 2012
The words 'England' and 'pants' have often been used in conjunction during the run up to major football tournaments and this summer's European Championship is no different.
Although this time the latter word isn't in reference to England's all too briefs challenge, rather to the fact that the squad has been told to leave their favourite undercrackers at home as they will be issued with regulation team underwear.
England rookie goalkeeper John Ruddy, who received his first call-up when he was named in Roy Hodgson's 23-man squad for the finals in Poland and Ukraine before later being ruled out with injury, let slip the bizarre lengths to which the England team are pampered earlier this week.
"I've been told to take boots, gloves, trainers, a few casual clothes and toiletries," the 25-year-old told The Sun. "We've got suits and they're providing underwear for us. It's surreal but that's what being in the England squad is all about."
Yep, being in the England squad is all about pants. Although, as M&S are kitting out the squad, let's at least hope it's not the usual stuff they are associated with.
---
Video of the week
This epic Euro 2012 advertisement from China's official broadcaster for the tournament is well worth a watch as it seems to suggest that the whole of Europe will engage in a war of Manhua (China's version of Manga) proportions - complete with bombing raids, missile launchers and machine-gun attacks - that will result in an apocalyptic earthquake for the host nations of Poland an Ukraine. To see Chinese TV's bizarre portrayal of EURO 2012, click here

.
---
More than words...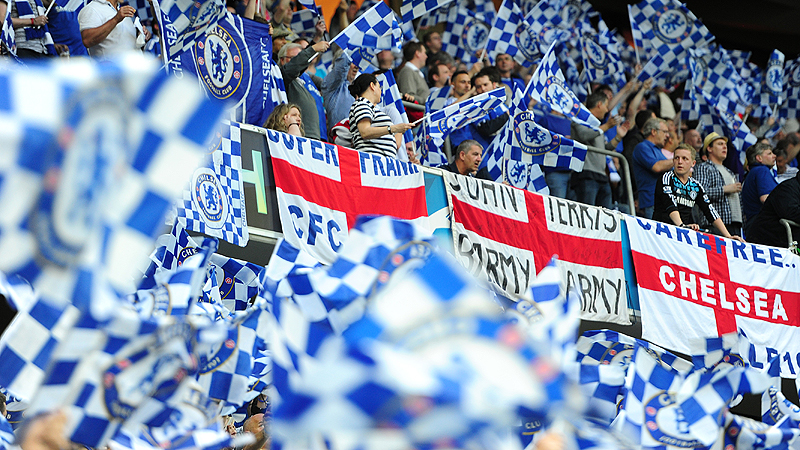 Despite English football's struggles in Europe, unfancied Chelsea beat Bayern Munich on their own patch to fly the flag in the Champions League final. ©AP Images

---
Around the web
• Basel player apologises for slaphead Cup prank
• Did Anatoliy Tymoschuk "curse" Bayern when he touched the UCL trophy?
• Topless Ukrainian feminists snatch Euro 2012 trophy