Ukraine beauties, Nev's scoregasm
Off the Ball never rests in its mission to scratch around the underbelly of professional football to find the most bizarre, humorous and inexplicable stories.
This week, an Italian referee dislocates his shoulder awarding a free-kick, increasingly desperate Blackburn fans grow Gael Givet beards to avoid relegation, the Dutch rile Euros-hosts Ukraine by claiming all their women are beautiful and Gary Neville has a 'scoregasm'.
Euro-hosts Ukraine riled by beautiful women 'slur'
The pan-European stereotype war is simmering away nicely ahead of Euro 2012 with co-hosts Ukraine already angered by a Dutch TV advert that portrays all of the nation's women as being amazingly beautiful. Apparently that's a problem.
The offending advert

, entitled "Keep Them at home", begins with the wife of a Dutch football fan doing a Google search for 'Ukrainian women'. A series of images of young women in skimpy underwear and suggestive positions subsequently pop ups.
Panicked by the idea of her hubby being surrounded by such beauties, the wife then clicks on another website to buy a do-it-yourself home beer tap to help persuade her man to stay in and watch the Euros on TV.
The ad is obviously a joke, but Ukrainian ambassador to the Netherlands, Olexander Horin, is not amused. "I'm anxious and dismayed that it could send the wrong image," Horin told AFP. "I will ask the company to remove the commercial from television: it's a latent appeal not to visit Ukraine and the Euro 2012."
Referee dislocates his shoulder awarding free-kick
Italian referee Daniele Doveri shot to shame this week after Napoli's Serie A clash with Novara was held up for almost 20 minutes when he dislocated his shoulder trying to award a free-kick.
Just two minutes into the game, Doveri pulled up and needed treatment

at the side of the pitch from Napoli team doctor Alfonso De Nicola after an overly flamboyant gesture wrenched his arm out of its socket.
After lying down on a bench for a few minutes, pondering the humiliating blow to his pride, Doveri went back into the changing rooms to get a pain-killing injection while the fourth official Gennaro Palazzino warmed up on the touchline.
But Doveri was undeterred by his injury and eager to save further embarrassment emerged and restarted the game just under 20 minutes after he had caused it to stop in slap-stick fashion.
Rovers fans grow Gael Givet beard to avoid drop
They've tried to get manager Steve Kean sacked and attempted to oust Indian owners Venkys, but having failed on both counts Blackburn Rovers' band of increasingly desperate fans have now taken a more surreal route in their bid to avoid relegation - by growing Gael Givet-style beards.
Off The Ball has absolutely no idea how mimicking the facial hair of fans' favourite Givet is going to help avoid the drop, but 'playing football' certainly hasn't worked and with the Championship just a whisker away anything is worth a try.
With only three games remaining in the season and Blackburn a minimum of three points from safety it's going to be a close shave. Rovers fans will hope the fightback begins at Tottenham on Sunday when their hopeful, newly-bearded faces will make their first appearance in the stands.
Organisers of the #GivetBeardForSurvival campaign, which has apparently been backed by Givet himself, are also urging beard growers to make a charity donation to East Lancashire Hospice.
Cologne apologise to masked-man Kadlec
Fancy dress costumes and punch-ups have been unlikely bed fellows in Cologne this season. In February, defender Kevin Pezzoni was dressed as a cowboy when he had his nose broken by an assailant dressed as a bodybuilder and now Bayer Leverkusen defender Michal Kadlec is aiming to return to action in a Phantom of the Opera facemask after having his broken outside a trendy nightspot in the city.
Czech international Kadlec was out with team-mates following Leverkusen's 1-0 win over Hoffenheim when he was set upon by two men, listed in a hooligan directory as Cologne supporters - prompting their local rivals to issue an apology for the incident.
"I was informed of Sunday's incident and immediately contacted (Bayer boss) Wolfgang Holzhaeuser to apologise to Michal Kadlec in the name of Cologne," club chief executive Claus Horstmann said. "It is not possible that players from other clubs cannot freely move around Cologne."
Despite the attack, Kadlec is eager to play against Hannover this weekend and, according to Bild, will have a wear his €2,000 super-hero mask for five weeks.
---
Video of the week
It's three for the price of one this week with the Gary Neville 'scoregasm' that accompanied Fernando Torres' goal for Chelsea against Barcelona given the treatment by various people with far too much time on their hands to produce hilarious vids. The original

, Neville scoregasming his way through sports history

and the Saved by the Bell reprise

are all well worth a watch.
---
More than words...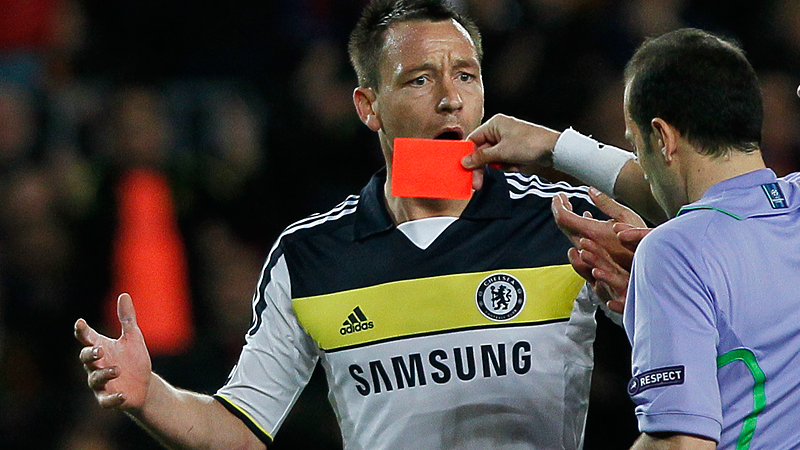 So long, sucker: John Terry's sending off against Barcelona bizarrely proved the inspiration for Chelsea to book their place in the Champions League final. ©AP Images

---
Around the web
• The worst penalty decision ever hands the A-League title to Brisbane Roar

• Japanese tsunami survivor's football washes up on beach in Alaska
• Rivaldinho copies father Rivaldo's famous bicycle-kick golazo
• Genoa match suspended as fans demand shirts from undeserving players