Romario on Messi, Racing gun trouble
Off the Ball never rests in its mission to scratch around the underbelly of professional football to find the most bizarre, humorous and inexplicable stories.
This week, Romario says Romario is better than Lionel Messi, Racing Club striker Teofilo Gutierrez pulls a paintball gun on his team-mates, Real Madrid star Cristiano Ronaldo has his boots stolen at Bayern Munich, Newcastle's Papiss Cisse is mobbed by fans after having a £6 haircut at the barbers and an Italian court is told AC Milan owner Silvio Berlusconi paid a model to wear a Ronaldinho mask and strip to her G-string.
Racing striker pulls paintball gun on team-mates, gets axed
Colombian striker Teofilo Gutierrez is certainly no stranger to controversy - having already been escorted from the pitch by riot police and sent off for bodychecking a referee - but following a dressing room bust up that allegedly ended with "Teo" threatening his team-mates with a paintball gun, Racing Club have had enough and told him he won't play for them again.
Teo, who certainly isn't the most popular player in Argentina ("If I saw him in the street, I'd fight him, hand to hand," said opponent, Julian Velazquez), nor at his own club, was sent-off for mouthing off during the 4-1 Clasico de Avellaneda defeat to arch-rivals Independiente, leaving his frustrated team-mates, who were only a goal down at the time, to play out the final 20 minutes with nine men.
According to the local media, events came to head in the dressing room when his angry colleagues confronted the 26-year-old about the needless red card - his fourth for Racing - and came to blows, with Teo pulling out what Sports Illustrated described as an "air gun" before being driven away in a taxi

, under the escort of a club official.
Racing president Gaston Cogorno has finally had enough of the combustible striker's costly antics and said this week: "We will seek a mutual way out but he won't play for Racing again. People are tired of Teo's attitude."
Real Madrid's boots stolen at Bayern
Mario Gomez's last minute goal nicked a 2-1 win for Bayern Munich against Real Madrid this week but a draw is not the only thing the visitors lost at the Allianz Arena as some light-fingered tealeaf also stole the team's boots prior to kicking-off the Champions League semi-final.
Real talisman Cristiano Ronaldo had three pairs stolen from the stadium while France striker Karim Benzema and Germany midfielder Mesut Ozil, who scored Madrid's goal and temporarily cancelled out Franck Ribery's opener, were also victims the thief.
Just how many pairs of boots Ronaldo actually needs and makes the poor old kit man carry around is still up for debate but Real have lodged an official complaint with UEFA - about the theft, not the quantity of boots their No.7 requires.
Real boss Jose Mourinho added: "The stealing of Cristiano's shoes is a shame, it's impossible something like that could happen at the Bernabeu." Unwittingly throwing down the gauntlet for a revenge pilfering at the second leg in Spain.
Ronaldo has since been compensated with three pairs of traditional Bavarian brogues. Local radio station presenter Stephan Lehmann, who is also the Bayern stadium announcer, said: "With them you won't score any goals but you will look really snazzy."
Romario says Romario is better than Messi
Last week, Argentina legend Diego Maradona called Brazilian counterpart Pele "stupid" for suggesting that Barcelona star Lionel Messi is not as good as Santos starlet Neymar, and this week Romario waded into the debate to throw a new name into the mix.
And just who did Romario nominate as being better than the three-time world player of the year? Himself of course.
In an interview with Rio de Janeiro daily O Dia, Romario said he was "by far" better than Messi and said he can be compared to the best players of all time, along with Pele and Maradona.
"Messi is a good player, but I'm in the top three: It's me, Pele and Maradona. I would include (Zinedine) Zidane in that list, too," he said.
Hmmm. And you scored 1000 goals too didn't you Romario?
Cisse mobbed by fans after having £6 haircut
The problem with being a superstar is that when you try and do something ordinary it never quite pans out as intended. Just ask Newcastle United's new No.9 Papiss Cisse, who stepped out for a £6 haircut at the barbers and ended up being mobbed by a horde of fans.
Okay, so Cisse might not be in the same global superstar bracket as David Hasselhoff, but in Newcastle he's the bee's knees after scoring ten goals in nine games since his £7.5 million switch from German Bundesliga side Hoffenheim.
Rather than head down to a the latest trendy salon, the £40,000-a-week striker parked his white, personalised Audi sorts car a barbers shop in a row of terraces in Gateshead to pop in for trim. Word soon got around Cisse was in the area and was greeted by a bunch of fans shouting "We love you Cisse"

when it came time to depart.
When Newcastle manager Alan Pardew was asked about the incident he said: "That sounds like the North East. I have never had it myself - only one or two turn up when I get my hair cut."
---
Video of the week
GOL TV commentator Ray Hudson gets very excited over a fairly run of the mill Cristiano Ronaldo freekick against Atletico Madrid, claiming it was so good it was a "wet dream of orgasmic proportions". Also listen out for the Jessica Rabbit comment. Click here to see Ronaldo's goal with Hudson commentary

.
---
More than words...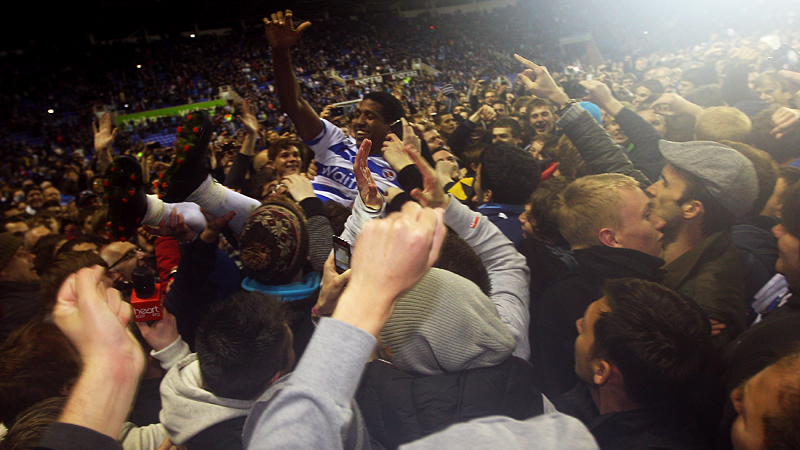 Reading's Mikele Leigertwood is carried away by the fans after scoring the goal that confirmed the club's promotion to the Premier League with a 1-0 win against Nottingham Forest. ©Getty Images

---
Around the web
• Court told Berlusconi paid model to wear Ronaldinho mask and a G-string
• Dalai Lama 'set to bless Aldershot FC's pitch'
• Liverpool defender Jamie Carragher appears on American Idol
• Ronaldo names his all-time Brazil XI - including himself