The man of steel issue
Off the Ball never rests in its mission to scratch around the underbelly of professional football to find the most bizarre, humorous and inexplicable stories.
This week, APOEL defender Paulo Jorge pulls his own teeth out to play on against Real Madrid, Roberto Mancini would like to punch Mario Balotelli in the head, Felipe Melo leaves Albert Riera with a bloodied nose and there'll be no Mean Machine-style redemption for imprisoned Bari match-fixer Andrea Masiello.
APOEL's Paulo Jorge pulls teeth out to play on
Real Madrid may have beaten plucky APOEL Nicosia in the Champions League this week but the Cypriot side's battling performances to reach the quarter-finals was epitomised by Paulo Jorge, who played on in the 5-2 defeat at the Bernabeu despite losing three teeth.
If that wasn't impressive enough, after losing two of them in a clash of heads

with team-mate William Boaventura, the Portuguese centre-back then wandered over to the sidelines for treatment and pulled the third one out himself as APOEL's medics stood open-mouthed.
In fact, the physio was much more bothered about the ordeal than man-of-steel Jorge and set about retrieving the tooth from the Bernabeu turf - presumably to save the 31-year-old a bit of cash when his rather large dentist bill comes through.
After a display of such machismo, maybe a few of football's biggest divers should take a long, hard look at themselves.
Mancini: I'd punch Mario if I was a player
Roberto Mancini may assume the role of suave Italian as Manchester City manager, but the former Azzurri forward revealed this week that if he were still a player he would "punch" the infuriating Mario Balotelli.
Last weekend, Mancini revealed he considered substituting Balotelli after just five minutes of City's costly 3-3 draw with Sunderland after he sulked moodily around the pitch, and this week the young striker pranged his car in Manchester City centre.
After being informed of Balotelli's latest antics, Mancini said: "I told him that if you played with me ten years ago I give to you every day maybe one punch in your head ... I speak with him - not every day because if not I need a psychologist - but every two days I speak with him."
One thing's for sure: Balotelli, who once had a well documented training-ground bust-up with supposed best buddy Micah Richards, would fight back. And that's a duel Off the Ball would like to see made into a Celebrity Deathmatch Easter special.
Melo wins Gala title fight with Riera
Sticking with training-ground bust-ups, former Liverpool winger Albert Riera was sent to hospital with a bloodied nose and a broken ego after trading blows with Galatasaray team-mate Felipe Melo during training this week, according to El Mundo Deportivo.
Turkish club Gala have since confirmed that there was indeed an "incident" between the feisty pair but remained tight-lipped on the details, insisting "the club has a policy of dealing with disciplinary matters internally".
However, round one of the bout is believed to have kicked off during a practice match when Riera took exception to an overly-strong tackle from former Juve midfielder Melo and the duo started swapping punches.
After being sent from the pitch by manager Fatih Terim, "the tension between the two continued" and Melo reportedly won round two in the changing rooms to claim the crown of Gala's premier pugilist. Riera was apparently then sent to Bahcelievler Medical Park hospital, but it was his pride that suffered the biggest damage.
No Mean Machine-style redemption for Bari match-fixer
Match-fixing Bari defender Andrea Masiello may have been envisioning a Mean Machine-esque redemption during his time behind bars but he'll find it tough to win over his fellow cons after being moved to the prison infirmary for his own safety.
According to reports in Italy, fear of violent attacks from other inmates, most of whom are Bari supporters, means Masiello, who admitted to investigators that he was offered €50,000 to score an own goal

to help secure local rivals Lecce's survival in Serie A, has been moved.
In the Mean Machine film, Danny Meehan (Vinnie Jones) is sent to jail for match-fixing but recruits a team of cons, including psycho-prisoner Monk (Jason Statham), to beat the guards and win his honour back. But it looks as though life won't be imitating art for the 27-year-old.
Meanwhile, the magistrates who arrested Masiello and placed eight of his former Bari team-mates under investigation are studying all of the Italian team's final games of last season, when they were already relegated from Serie A.
---
Video of the week
Karim Benzema's golazo during Real Madrid's 5-1 win over Osasuna this week has been likened to Marco van Basten's famous, stunning strike for Netherlands against USSR at Euro '88. But which is better? Well, judge for yourself with this side-by-side comparison. Click here for Van Basten v Benzema golazo

.
---
More than words...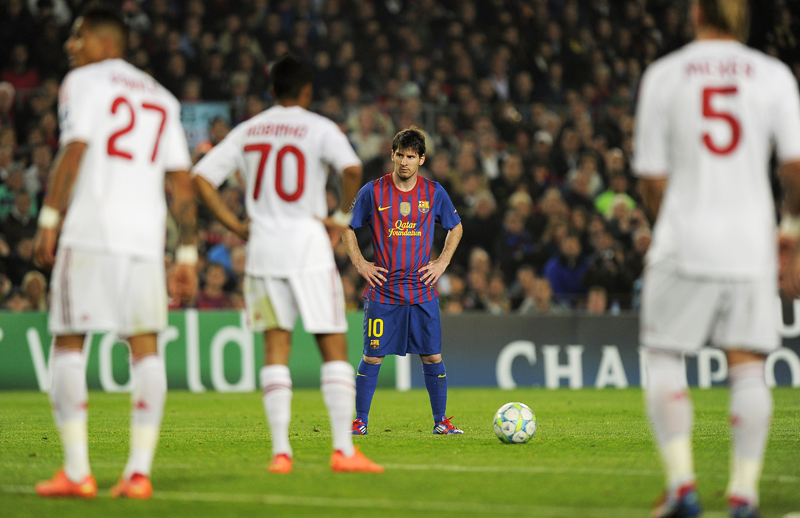 Lionel Messi terrorised AC Milan with set pieces this time around, scoring two penalties in Barca's 3-1 Champions League semi-final win. ©Getty Images

---
Around the web
• Taraabt celebrates first Premier League goal with shisha pipe and Chamakh
• Newcastle hot-shot Papiss Demba Cisse is powered by goat curry
• Manchester City starlet sorry for celebrating Manchester United win
• Inter superfan celebrates 113th birthday, making her older than the club itself
---
• To follow me on Twitter just click here: Follow @ESPNsoccernetfc