Park life, model 'too sexy' for Schelotto
Off the Ball never rests in its mission to scratch around the underbelly of professional football to find the most bizarre, humorous and inexplicable stories.
This week, frog-juice drinking Manchester United midfielder Ji-Sung Park asked to help save frogs, Neymar scores a solo wondergoal to remind the world it's not all about Lionel Messi, Atalanta winger Ezequiel Schelotto dumps his model girlfriend because his parents says she's 'too sexy' and a former semi-pro claims the church ruined his chances of playing for Manchester United.
Frog-juice drinking Park Ji-Sung asked to help save frogs
Back in 2010, Manchester United midfielder Park Ji-Sung revealed that he resorted to drinking stinking boiled frog juice as a boy to make him stronger after being told he was too weak to make it as a professional footballer.
But make it he did. And now a South Korean environmental group called Frogs Friends has been moved to appeal to its much-idolised countryman to help protect the amphibians from a surge in consumption in the peninsula.
"I do not know if it is just coincidence but after it was revealed that Park eats frogs as a means to boost his strength, the number of cases of illegal poaching of frogs and toads residing in mountains has increased," campaign organiser Park Wan-Hee told Yonhap News Agency.
The lobby group added: "If Park joins our campaign to stop the practice, it would correct people's misperceptions about eating frogs, believing it will raise their stamina."
In his book, Park revealed his father, who got a job at a butcher shop so he could get the best cuts of meat for his son, went to the frog farms and his mother boiled up the juice.
Schelotto dumps 'too sexy' girlfriend
Atalanta winger Ezequiel Schelotto has reportedly dumped stunning Argentinian model Mariana Diarco because his parents have deemed her 'too sexy' for their son.
Having made the trademark footballer manoeuvre of bagging himself a beauty - a Playboy model no less - Schelotto seems to have had difficulty reconciling it with his role as a 'good son' and binned his clothes-averse catch.
The Argentine couple had been together since December, but according to Football Italia, cover girl Diarco failed to win the all important approval of the 22-year-old's parents.
After a quick Google, Off the Ball doubts it will be very long at all before Diarco, who has also modelled for Maxim, gets herself a new footballer friend.
Man sues church after failing to play for Man Utd
When Off The Ball happened upon Billy Connolly's preposterous film The Man Who Sued God many moons ago, we thought it was ridiculous. It would seem that former Portuguese Division Three player Arquimedes Nganga thought it was a documentary. He's suing the Baptist church for £10 million, claiming the 19 years he spent as a "fervent evangelist" ruined his chances of playing for Manchester United.
"I could definitely have had a long career in the Premiership," 46-year-old Nganga is quoted as saying in the The Guardian. "I see many players playing today who I am not inferior to - and perhaps even better than. Most midfielders are either defensive or attacking but I was both. I had something new."
Nganga, who now lives in London, used to play in his native Portugal but quit football at the age of 25, two years after he converted to the Baptist faith. He believes he could have earned £20,000-a-week, despite never making more than £200 a month playing semi-professionally.
Now despite having never seen him play, Off the Ball is taking the fact that he hadn't been snapped up by one of the big clubs by the relatively ripe old age of 25 as decent indicator that Nganaga, who has already filed papers at the high court, may not have been as good as he thinks. Perhaps that is for the court to decide.
Goal-shy Torres snubbed penalty chance
Imagine if you will: you're a £50 million striker who hasn't scored for 23 matches and you're offered a penalty to end your embarrassing goal drought and put a lid on those never-ending jibes from the terraces. You accept, right? Well, not if you happen to be the Chelsea striker that's masquerading as Fernando Torres.
After being ridiculed at half-time during Chelsea's FA Cup clash with Birmingham - when a fan taking part in the traditional interval entertainment at St Andrew's shanked an effort wide of the goal and told the on-pitch interviewer "it was worse than Torres" - the striker won a penalty but, with his side cruising to victory and two goals in the lead, refused the chance to take it.
The mocking Birmingham fans chanted "We want Torres" upon the award of the penalty but it was left to Juan Mata, the designated penalty taker, who after offering Torres the chance to score from 12-yards stepped up and missed himself.
After the game, Mata was quick to grass up his confidence-stricken fellow Spaniard: "I asked him if he wanted to take it because he provoked [won] the penalty. He said: 'I'm not first on the list to shoot,' so that's what happened."
---
Video of the week
In a week when Barcelona star Lionel Messi delivered five reasons to proclaim his greatness, Brazilian starlet Neymar reminded us all that he's not a bad player either with a hat-trick for Santos against Internacional in the Copa Libertadores. The pick of Neymar's goals was this solo effort

.
---
More than words...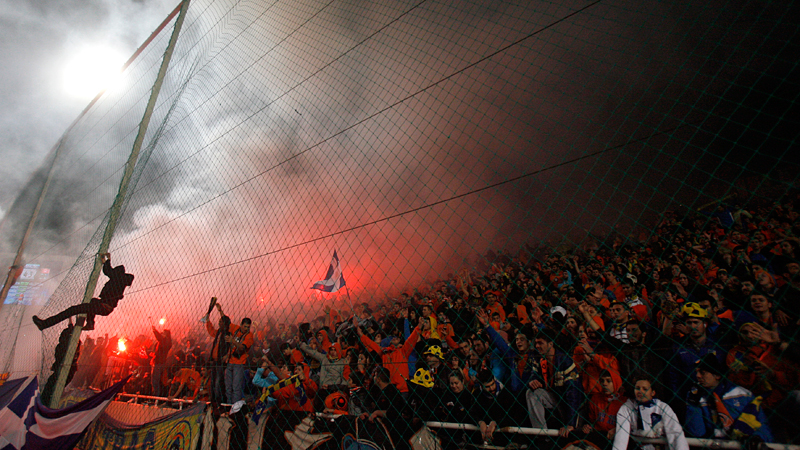 APOEL fans celebrate their team reaching the quarter-finals of the Champions League after a penalty shootout victory against Lyon. ©AP Images

---
Around the web
• Rodgers: Chelsea job? I'm trying to build career, not destroy it!
• Steven Gerrard stars in the Beano for Sport Relief
• Wolves' Roger Johnson showed up to training drunk after 5-0 Fulham loss
---
• To follow me on Twitter just click here: Follow @ESPNsoccernetfc