Food fight for thought, pirate Iniesta
Off the Ball never rests in its mission to scratch around the underbelly of professional football to find the most bizarre, humorous and inexplicable stories.
This week, Andres Iniesta temporarily ditches Barcelona to become an albino pirate, Zlatan Ibrahimovic accidentally knocks out a team-mate, disgruntled fans waste perfectly good cooked sausages and chicken drumsticks pelting players, and Louis Saha explains why some footballers prefer to use escort girls.
Food for thought
While Off The Ball is well aware it should never be a laughing matter when fans throw things onto the football pitch, sometimes it's simply impossible to not crack-up. How can a goalkeeper being hit with a cooked sausage not be funny?
And that's exactly what happened when fans of Italian club Narnese threw a variety of bangers and a potato at the opposition recently. The club were fined £500, but the official league statement that included the line "one sausage hit the goalkeeper but did not cause him pain" was priceless.
There's been a spate of comedy food fights in recent weeks, with a chicken drumstick causing similar mirth over in Brazil. Serie D side Guarani de Juazeiro were fined £200 after Horizonte's Albano was hit by the lower limb but, even more hilariously, The Guardian reports that referee Edson Galvao da Silva attached the drumstick to his post-match report card.
Chucking food at players is nothing new, of course. Panathinaikos' Giorgos Karagounis once suffered a bombardment of carrots against Iraklis, the head of a suckling pig was lobbed at Luis Figo after swapping Barcelona for Real Madrid and Newcastle United's rotund former striker Mickey Quinn once, in a brilliant retort to chants of "you fat b*****d", took a bite out of a pie that was thrown at him from the stands.
Zlatan accidentally KOs team-mate
Zlatan Ibrahimovic has a penchant for using his considerable Taekwondo skills (he's a black belt) on unsuspecting team-mates, as Sweden's Christian Wilhelmsson

and AC Milan's Rodney Strasser

can attest, but recently the Swede has been exploring sneakier ways to land his blows.
In February, the Rossoneri striker attempted a stealthy wrap-around slap on Napoli's Salvatore Aronica

, which, despite using a team-mate to mask the swipe, was spotted by the eagle-eyed ref and resulted a three-match ban and a red card for Ibrahimovic.
But this week the big Swede outdid himself, inadvertently setting off a Mouse Trap-esque chain of events (younger readers, think Final Destination) that sadly resulted in a season-ending injury for team-mate Daniel Majstorovic.
During training, ahead of Sweden's friendly against Croatia, Ibrahimovic shrugged-off the attentions of team-mate Anders Svensson, accidentally sending him tumbling into Celtic defender Majstorovic

, who, according to his club, ruptured the cruciate ligament in his left knee. The poor fella also looks set to miss Euro 2012.
Saha: Footballers use call girls
'Gentlemen prefer blondes', the old movie title delicately proclaimed back in 1953, but the times they are a changin' and this week Louis Saha revealed that today's idiom should be 'footballers prefer call girls'.
In an interview to help publicise his imminent autobiography, Saha, who has been recalled to the French national team following a January switch to Tottenham, suggested some players turn to escort girls in an attempt to avoid the embarrassment of kiss-and-tell exposés by common or garden alluring temptresses.
"Let's be honest: women are the greatest temptation. For a young player, it's an Achilles' heel," Saha is quoted as saying in the Daily Mail. "They can quickly be taken in, seduced by the girl who will cash in with a kiss-and-tell to the newspapers.
"So it's hard to know who to trust and you become paranoid where women are concerned. Some players therefore prefer to use escorts."
Iniesta ditches Barca to become pirate
It seems Andres Iniesta's considerable talents are not just confined to the football pitch: the Barcelona midfielder also makes a perfect albino pirate.
The fair-skinned Spaniard was apparently dubbing director Rafael Luis Calvo Ribot's first choice when he was charged with the task of re-voicing new animated movie Pirates into Spanish, or ¡Piratas! as it'll be known by his countrymen.
Iniesta lends his voice to the character Pirata Albino

, who has his heart set on winning the 'Pirate of the Year' award but never will while Lionel Messi is around... oh sorry, that's the FIFA World Player of the Year award. Life imitating art and all that.
Anyway, Iniesta, who stars alongside the gorgeous Salma Hayek, claims it was much more difficult than playing football but was happy to jump in with both feet because, he said, "the thought of my daughter recognising me in an animated film in the future makes me very excited".
---
Video of the week
What's funnier than a jubilant fan poking himself in the eye whilst celebrating Liverpool's Carling Cup victory? A jubilant child poking himself in the eye whilst celebrating Liverpool's Carling Cup victory, but carrying on undeterred. To see a kid injure himself (you heartless beast), click here

.
---
More than words...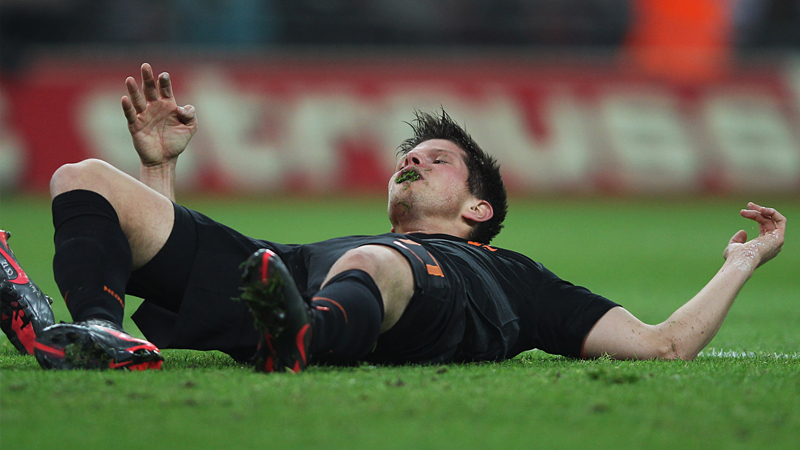 Netherlands' Klaas Jan Huntelaar lies delirious and injured with a mouthful of grass after clashing heads with Chris Smalling of England. ©Getty Images

---
Around the web
• Charlie Adam's skied penalty finally re-enters earth's atmosphere
• Wasted your life playing Football Manager? There's a book to help you
• Premier League referees are always right* (*well, 92% of the time)
• Fraizer Campbell's first England cap and baby arrive together
---
• To follow me on Twitter just click here: Follow @ESPNsoccernetfc