Banega balls up, C-Ron v Messi rap
Off the Ball never rests in its mission to scratch around the underbelly of professional football to find the most bizarre, humorous and inexplicable stories.
This week, Lionel Messi and Cristiano Ronaldo go head to head in a football rap battle, Cologne defender Kevin Pezzoni heads to carnival dressed as a cowboy and gets his nose broken, Valencia midfielder Ever Banega undergoes surgery after running over his own foot and Porto don't like being laughed at.
Valencia midfielder Banega runs over his own foot
There aren't many names that spring to mind when trying think of people who have ran themselves over with their own car. In fact, Off the Ball can only think of one, former East 17 singer Brian Harvey, but now there's another: Valencia midfielder Ever Banega.
But while Harvey's misfortune, and serious injuries, were caused by a jacket potato (don't ask, just Google it) Banega has only himself to blame.
The forgetful Argentinian failed to set the handbrake in his car at a petrol station and it rolled back and trapped his foot, leaving him needing surgery on his damaged ankle and with plenty of time to reflect on his absentmindedness.
The 23-year-old had already been left out of the Valencia squad to visit Barcelona in La Liga on Sunday as he is struggling with a knee problem.
Pezzoni has nose broken by fancy-dress bodybuilder
When Cologne defender Kevin Pezzoni headed off to the German city's Karneval dressed as a cowboy he probably didn't expect to have his nose broken by an unknown assailant dressed as bodybuilder.
But bizarrely, and unfortunately for the 22-year-old German, that's exactly what happened during the celebrations, and even worse, the poor fella now needs an operation to reset his smashed-up shnozzle.
Pezzoni will then receive a special mask to allow him train, though the club say a precise date for his return can only be determined after the surgery.
Pezzoni, who was struck in the face without provocation in Huerth, a town bordering Cologne, told Express: "I was just stood there as someone tipped me from behind... Then I got hit in the face."
Cologne coach Stale Solbakken said he was "stunned" and "sorry for the lad".
Porto not having a laugh
While the rest of Europe is hell-bent on stamping out racism and homophobic chanting on the terraces, Portuguese champions FC Porto seem to have got their UEFA memo's in a serious muddle and have launched their own anti-humour campaign.
The defending Europa League champions were dumped out of the competition by Manchester City and have vowed to lodge a complaint with UEFA after the witty City fans chanted "You're not incredible" at Hulk at Eastlands on Wednesday night.
City fans also labelled Hulk, who was indeed far from incredible on the night, a "cheat" during City's 4-0 victory and Porto communications director Rui Cerqueira feels the club should be punished.
He said: "We will take this to UEFA. It is improper behaviour. This behaviour may be normal in England but Porto want to contribute to eradicating it from sport."
Strange how the move comes following the announcement that UEFA will charge Porto over alleged racial chanting against City duo Mario Balotelli and Yaya Toure during the first leg of the tie at the Estadio do Dragao.
---
Video of the week
The world's two most prominent players, Lionel Messi and Cristiano Ronaldo go head to head in a football rap battle to determine just who the best is. Including the brilliant line: "I went online, Googled your name and all I got was 'diving queen'." To see the Messi v Ronaldo rap battle click here

.
---
More than words...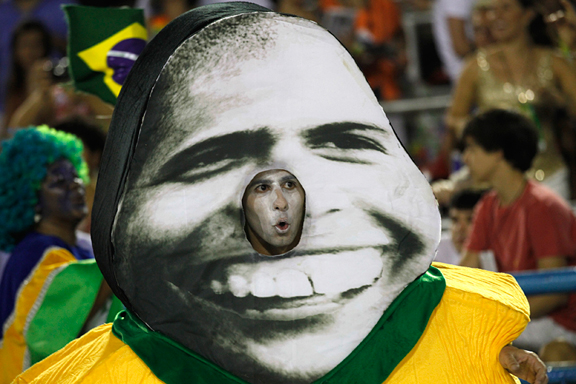 Ronaldo (sort of) joins Brazil's carnival celebrations at the Sambadrome in Rio de Janeiro. ©AP Images

---
Around the web
• Mario Balotelli asks Tim Westwood for DJ lessons and he obliges
• Porto to protest "you're not incredible" Hulk taunts from City fans
• Legia Warsaw fans bombard Sporting players with snowballs
• The Steven Gerrard themed 'Stevie G' hotel in Indonesia
---
• To follow me on Twitter just click here: Follow @ESPNsoccernetfc