Alessandro Del Piero's miracle voice
Off the Ball never rests in its mission to scratch around the underbelly of professional football to find the most bizarre, humorous and inexplicable stories.
This week, Corinthians put striker Adriano under 'house arrest' to make him lose weight, a 12-year-old girl wakes from a coma after listening to Alessandro Del Piero, St Etienne's goalkeeper Jeremie Janot reveals he likes to pee inside a wet suit to keep warm and Neymar gets 'caked'.
Adriano under 'house arrest' to make him lose weight
Increasingly-rotund Corinthians striker Adriano, who was once spotted concluding a lengthy night out at a hotdog vendor just hours before training, has been put under "house arrest" by his club in order to force him to lose weight.
The Brazilian club said Adriano, who has been fined several times for missing training and was given a watching brief for Corinthians' title-winning match against Palmeiras in December after suffering a bout of post-party "chronic diarrhoea", would be put on a strict diet inside the hotel at the team's headquarters and made to train three times a day.
Corinthians fitness coach Fabio Mahseredjian said the former Inter, Roma and Flamengo striker was being "detained" because he needs to improve his physical condition in order to be included in the club's plans for the season.
Mahseredjian said: "In the hotel we have more control over him... He knows we're trying to do the best for him. All of us are dedicated, but it depends on him. Weight loss comes only through diet: you cannot lose weight through physical activity alone."
Girl awakes from coma after listening to Del Piero
Alessandro Del Piero has attained a god-like status in the Bianconeri half of Turin after nearly two decades of sterling service for Juventus and this week "Il Fenomeno Vero" (The Real Phenomenon) proved his power to awe extended beyond the football pitch with a feat that couldn't fail to warm even the coldest heart of the most die-hard Torino fan.
The veteran striker was contacted by the parents of a 12-year-old girl who had slipped into a coma and asked if he would send a message of support for their stricken daughter, Giada, as she was huge Juventus fan and thought it may help. Saint Alessandro duly obliged and soon after hearing the former Italy international's voice Giada reacted.
The girl's father, Francesco, who strongly believes the footballer made an important contribution to his daughters recovery told Italian news agency ANSA: "That night (after listening to the message) something special happened.
"First she moved her hand and then after a few hours she called out 'mamma'. Then after about 24 hours she talked and asked for an ice-cream".
In the message, the Juve star said: "Hello Giada, I'm Alessandro Del Piero. I hope you can wake up as soon as possible to watch lots of our and my games, to come and see us and, above all, get to know each other".
Rename Bath City's stadium for just £50
It seems Bath City may have seriously underestimated football fans' love of mischief after offering up the chance to rename the club's Twerton Park stadium for just £50.
Bath fans, or even rival fans for that matter, can enter the draw and although the club's hierarchy have urged the winner to name the stadium after a friend, family member or past player, the Blue Square Bet Premier League side could end up with a much more... erm... let's say creative name.
Those who enter the draw, a good number of whom will presumbly have roguery on thier minds, will also receive four tickets for Bath's match against Forest Green Rovers on Easter Monday and the winner will be selected at half-time.
The good news for any worried Bath City fans is that the new name will only last for one season - the 2012/13 campaign.
St Etienne keeper takes the piss
It's been so cold across northern Europe this week that fixtures have been cancelled quicker than an ill-advised Patrick Barclay tweet, but in those snow-bound matches that have gone ahead, some in -12ºC temperatures, keeping warm has proven to be somewhat problematic.
There's been snoods, tights, gloves, earmuffs and all kinds of paraphernalia but the award for the most ingenious solution has to go to St Etienne's reserve goalkeeper Jeremie Janot, who has a unique way of keeping nice and toasty on the bench.
"It's too cold, even with the substitutes' blankets over your legs. The best way is to wear a wetsuit, that they use for surfing," Janot told L'Equipe. "With 15 minutes left of the game, you just pee in the suit and then you can go straight to the showers."
Now his secret is out, all eyes will be on the the St Etienne bench at around 21.30 GMT during Sunday's trip to Toulouse.
---
Video of the week
If Tottenham Hotspur ever need an extra bit of fight in midfield then Sandro proved himself to be just the man for the job this week after the Brazilian was filmed tearing up the Spurs dressing room with a series of martial art kicks by team-mate Danny Rose - complete with chants and flying teacups. To see Sandro karate kick his way through Tottenham's dressing room click here

.
---
More than words...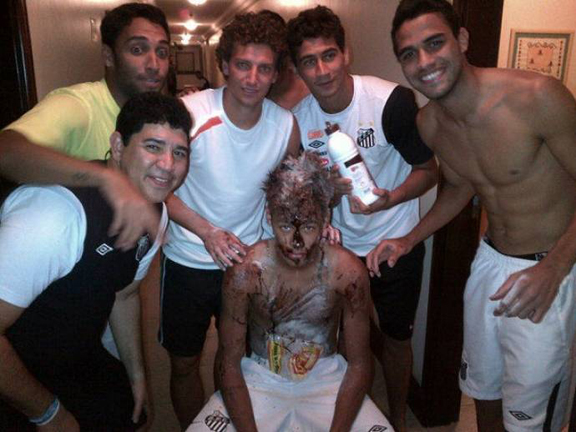 Neymar gets 'caked' after scoring his 100th career goal - 82 for Santos, eight for Brazil and ten for the national team at youth level. ©Twitter

---
Around the web
• David Beckham gets red carded at a kids' match
• Bayern Munich helped Dortmund avoid bankruptcy with loan
• Samsunspor players have lucky escape after team bus hit by train
---
• To follow me on Twitter just click here: Follow @ESPNsoccernetfc