Pepe Le Pew, Amauri for sale on eBay
Off the Ball never rests in its mission to scratch around the underbelly of professional football to find the most bizarre, humorous and inexplicable stories.
This week, Real Madrid defender Pepe Le Pew stinks up El Clasico with his theatrics, heavy metal-mad Marcus Hahnemann records a session with British rockers Maleface, Juve striker Amauri is put up sale on eBay, a Serie D striker attacks a journalist for "writing s**t" and the technocalypse reaches the Premier League.
Juve fans put Amauri up for sale on eBay
It's fair to say that Carvalho De Oliveira Amauri's stay at Juventus has not been a happy one. The Brazil-born striker narrowly missed out on the Bidone d'Oro - an award thrust upon Serie A's biggest underachiever - at the end of 2011 and at the start of this year found himself being flogged on eBay.
The online auction was masterminded by a disgruntled Juve fan with the Bianconeri struggling to offload the €70,000-per-week flop through more conventional channels during the January transfer window.
Bidding on the unofficial sale, which promised free delivery, no refunds and Juve full-back Paolo de Ceglie as a sweetener, reached €10 million before the auction for the Italy international was removed from the website.
Amauri, who completed a €22.8 million move to Juve in 2008, has fallen out of favour with head coach Antonio Conte and has not played single game this season. The 31-year-old scored seven goals in 11 appearances on loan at Parma last season and is reportedly available for free.
Hahnemann to go metal with Malefice
Heavy metal-mad goalkeeper Marcus Hahnemann has got a bit more time on his hands now that he's watching Tim Howard perform wonders between the sticks at Everton and so the bearded baldy is set to go into the studio to record a session with British rockers Maleface.
Hahnemann, who once said he'd rather have his left hand broken with a mallet than listen to non-stop hip-hop ("I broke my right one last year, and I had trouble wiping my ass"), will take part in Jägermeister's 'Ice Cold' sessions at London's famous Strongroom Studios this week and Off The Ball can't wait to hear the result.
Maleface, who are one of the leading exponents of modern British heavy metal and released the album 'Awaken The Tides' to critical acclaim last year, are looking forward to the get together, with lead singer Dale Butler saying: "This collaboration of football and metal is gonna be something you won't want to miss."
Hahnemann, who likes to listen to a bit of death metal to psyche him up before a game, added: "I can't stop thinking about when I am coming back down here in a few weeks to record with Maleface! So hopefully my love of music and their love of football with translate to a really cool track!"
The session will be streamed from February 1 on the Jägermeister UK Facebook page.
Striker punches journo for "writing s**t"
It's a risky business this journalism lark, just ask Quotidiano della Basilicata reporter Rocco De Rosa who was cyber-stalked and then physically assaulted after daring to give an Italian Serie D player a performance rating of 4.5 out of 10 in a match report.
ASD Angelo Cristofaro striker Antonello Scavone did not take the criticism particularly well following a 3-0 defeat to title-challengers Sarnese and after tracking down De Rosa on facebook and sharing a few choice words, spotted the journo in the stands and delivered a punch that sent the poor fellow straight to San Carlo Hospital.
"He said I write s**t," victim De Rosa is quoted as saying in The Guardian. "I don't get paid much to do this - only a few cents a line - I just do it for passion, because I dream of being a sportswriter. But despite what happened, the dream remains. I'll take it as an experience."
De Rosa could even count himself lucky as in September 2010 Honduras goalkeeper Donaldo Morales took a leaf out of the Diego Maradona handbook and shot at a journalist from Diez who was critical of his performances.
But Cristofaro striker Scavone, who has been temporarily suspended by the Serie D bottom-feeders, apologised. "I am disappointed and ashamed," he said. "Unfortunately you cannot go back and correct the huge mistake done and therefore I can only apologise to Rocco and his family. I know I have let everyone down, especially my team-mates, the president and the staff."
The four horseman of the technocalypse
Just three months ago, this very column voiced considerable concern at the way social media had already replaced something once known as 'talking' as life's prime mode of communication and painted a picture of a dystopian future where humans live in isolation and only interact through surrogate robots.
This panic attack of technophobia was brought on by the news that Mexican First Division side Jaguares de Chiapas had decided to strip their players of such whimsical indulgences as their names and instead had opted to emblazon the back of their shirts with twitter handles as they took the first step on the slippery slope to Doomsville.
Those crazy Mexican's, all the way over in Latin America, you laughed. Well the revolution has now hit these very shores, with Manchester United defender Rio Ferdinand and Arsenal goalkeeper Wojciech Szczesny both choosing to sport their twitter handles, @rioferdy5 and @13Szczesny13, in Sunday's Premier League clash at Emirates Stadium.
Arsenal duo Theo Walcott and Alex Oxlade-Chamberlain complete the four horseman of the technocalypse.
Okay, so the account names will only be embossed onto their shiny new Nike boots, but it's the beginning of the end I tell you! It's hoverboots and Orwellian nightmares next. The Prisoner summed it up best when he said: "I am not a number (or in this case a twitter handle), I am a free man."
Oh...er... and by the way, be sure to follow me at @ESPNsoccernetFC.
---
Video of the week
Real Madrid's Pepe overtook Sergio Busquets as Off The Ball's most disliked player in football this week with a shameless display of cheating against Barcelona in El Clasico that deserves some kind of retrospective punishment and a lengthy ban. The Portuguese hatchet man delivered and Oscar-worthy performance when he pretended to have been hit in the face by Cesc Fabregas

when he clearly wasn't and then capped his disgraceful performance with a seemingly deliberate stamp on Lionel Messi's hand

.
---
More than words...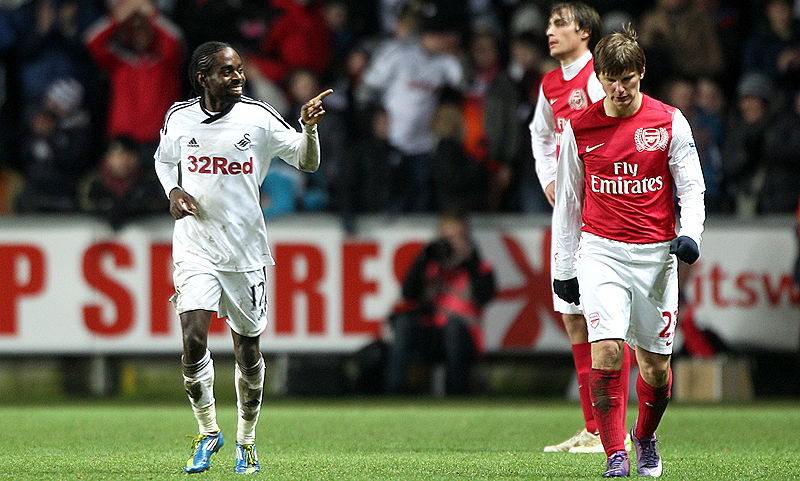 Swansea goalscorer Nathan Dyer makes a point as Arsenal are out Arsenal-ed at the Liberty Stadium.

©AP Images

---
Around the web
• Forget Xavi, Swansea's Leon Britton is Europe's most accurate passer of the ball
• Shunsuke Nakamura bends a freekick through the window of a moving bus
• Beer "must be sold" at Brazil World Cup, insists FIFA
• Barcelona's current crop of stars on vintage football cards
---
• To follow me on Twitter just click here: Follow @ESPNsoccernetfc