Does Becali dream of electric sheep?
Off the Ball never rests in its mission to scratch around the underbelly of professional football to find the most bizarre, humorous and inexplicable stories.
This week, Steve McManaman recalled El Centenariazo when all of Spain laughed at Real Madrid, Santos president Luis Alvaro de Oliveira Ribeiro revealed he had to axe Santos' women's and futsal teams to afford to keep Neymar, madcap Steaua Bucharest owner Gigi Becali hopes thousands of sheep will soothe his fury and Samir Nasri gets abused in his car by some Liverpool fans.
Does Becali dream of electric sheep?
Outspoken Steaua Bucharest owner Gigi Becali, whose full CV of alleged misdemeanours since taking control of the Romanian club in 2003 is far too long to list here but includes sexism, homophobia, racism and religious sectarianism, has vowed to turn over a new leaf for 2012 with the help of thousands of sheep.
"This year, I intend to not argue with anyone. God will like that," football's most consistently controversial owner is quoted as saying in The Guardian this week. The former shepherd, who made millions during the real estate boom of the 1990s to become one of Romania's richest men, plans to buy "3,000-4,000 sheep" and watch them graze to help soothe his temper. "I am hypersensitive. The slightest thing can affect me. But sheep, they calm my soul."
Dinamo Bucharest might, however, disagree with that last statement as Becali went absolutely ballistic when they mocked his past as a shepherd by putting images of him surrounded by sheep on their big screen during December's derby.
"You know who owns Dinamo? A communist gypsy and a man who sleeps with men," Becali, whose love of sheep has also been mocked on YouTube, retorted. "Yes, sure, I was a shepherd, I milked the sheep, I like sheep, get over it. I'd rather milk sheep than do men."
Spain laughs at Real Madrid
Real Madrid may have squeaked through into a probable Copa del Rey quarter-final against Barcelona following what Jose Mourinho described as a "pragmatic and practical" 1-0 win over Malaga, but Off The Ball will remember this week for the tale Steve McManaman regaled us with about the time his Los Blancos side were humiliated in the competition in front of the whole of Spain.
"When we got the final it was appalling because we built ourselves up as it was Real Madrid's 100-year anniversary and they chose for the final to be at our stadium, on the very day of our 100-year anniversary," McManaman, who played for four seasons at the Santiago Bernabeu, recalled of the 2002 clash with Deportivo de La Coruna.
Real president Florentino Perez had arranged with the Spanish federation that the Copa del Rey final should be played at Real's home ground to mark the club's centenary and everything was prepared so that Madrid's galacticos could celebrate in style after El Centenariazo, but it didn't go to plan.
"We were directed by the president to make sure we got into the final. You know, it's our 100-year anniversary, in our own stadium, the T-shirts are already printed - and Deportivo turned us over. It was a strange mixture as the whole of Spain were happy to rub our faces in it for being so overconfident and so arrogant to change the final venue."
Santos axe women's team to pay for Neymar
When Santos fought off interest from some of the world's biggest clubs to surprisingly keep hold of Neymar, club president Luis Alvaro de Oliveira Ribeiro joked he'd only succeeded because Real Madrid manager Jose Mourinho would have made the young star cut off his trademark fauxhawk.
However, the real cost to the Brazilian club appears to be even more dreadful than the 19-year-old's aberration of a haircut, with Ole reporting this week that the president had to shut down Santos' successful women's team, and futsal team, to help fund Neymar's 50% pay-rise to €15 million a year.
"Keeping him was an effort. It is impossible not to cut costs," Ribeiro explained. "If you don't make ends meet, you return to indebtedness and run the risk of relegation."
After signing his new lucrative contract with Santos in November, Neymar explained his decision to stay by saying: "I just love this club. I'm like one of the fans." Obviously a rich fan, who's not fond of women's football.
Nasri's in car clash with Liverpool fans
If Samir Nasri thought failing to sufficiently fill the boots of injured Manchester City star David Silva in this week's Carling Cup semi-final first leg defeat to Liverpool was as bad as his day was going to get, he was in for shock.
On the way home from the surprise defeat at Eastlands, Nasri was spotted in his car by a couple of Liverpool fans who decided it would be hilarious to berate the French midfielder.
The Reds fans, who filmed the footage from inside their own car, pulled up alongside Nasri and convinced him to wind down his window before abusing the 24-year-old about City's 1-0 defeat and criticising his decision to leave the Gunners, saying: "You've got a better chance of winning the Champions League with Arsenal than you have with Man City."
After receiving a contniued torrent of abuse, which included "How do you like that, you ****in' Arsenal reject?", Nasri responded with "I am top of the league" then speeding away in his expensive sports car.
The video, which contains strong and abusive language, was uploaded to YouTube under the title: "Samir Nasri gets ripped on by Liverpool fans after City game".
---
Video of the week
Pantomime season may be drawing to a close, but Real Sociedad goalkeeper Enaut Zubikarai could have done with a shout of 'he's behind you' to avoid doing 'a Shay Given' during his side's 6-1 hammering against Mallorca in the Copa del Rey. Having already conceded three goals in four minutes, the hapless 'keeper is then caught out by sneaky Mallorca striker Castro, who catches Zubikarai unaware from a goalkick and nips in from behind to score the fourth goal. To see Real Sociedad goalkeeper Zubikarai 'do a Shay Given' click here

.
---
More than words...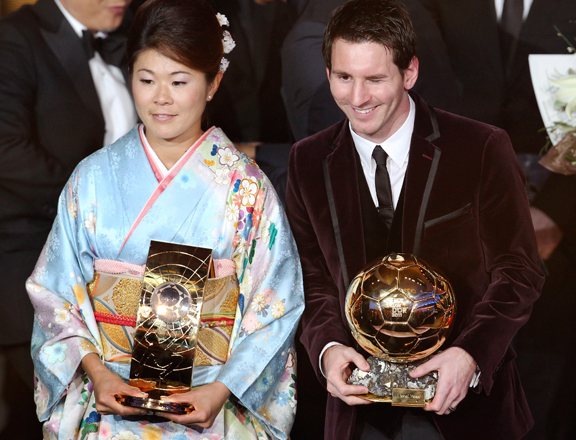 Argentina's Lionel Messi and Japan's Homare Sawa receive their FIFA Ballon d'Or awards wearing national dress. Sawa in a beautiful kimono and Messi sporting a purple velvet smoking jacket and a cheeky wink.

©AP Images

---
Around the web
• David Beckham 'wipes nose' with Man City shirt after meeting Mario Balotelli
• Sepp Blatter's 'dad dance' disaster with Shakira at FIFA Ballon d'Or
• Arsenal's Szczesny apologises for 'rapist' Ramsey quip on Twitter
• Bog standard! Terrible toilets turn Ebbsfleet's luck with not-so-wee £100,000 prize
---
• To follow me on Twitter just click here: Follow @ESPNsoccernetfc