Kompany address, Ribery shisha bar
Off the Ball never rests in its mission to scratch around the underbelly of professional football to find the most bizarre, humorous and inexplicable stories.
This week, Frank Ribery decides to open an Arabic-themed shisha bar, Vincent Kompany asks the Manchester City fans to tweet him a derby-day team talk, a new 50p coin aimed at explaining the offside law 'gets the offside law wrong', Bradley Johnson taunts Joey Barton at the World Professional Darts Championship and Luis Suarez is zapped by a Manchester United fan with laser vision.
Kompany: Tweet me derby team talk
Manchester City skipper Vincent Kompany might be a real leader of men on the pitch but it seems he could be struggling to find the right words off it as he's asked the Citizens' faithful to tweet him words of wisdom for his derby team talk against Manchester United on Sunday.
Kompany has recently jumped on the Twitter bandwagon (which is currently speeding, out of control, towards a precipitous canyon) and has invited fans to send him rallying messages to help him prepare his pre-match team talk against the Red Devils in their FA Cup third round clash.
"Tweet me what you would say on derby day to inspire the team and I will make sure that on the day it makes a difference," the Belgian wrote. The winner's words will be put on to a poster, signed by the skipper and they will also receive his shirt and armband.
Kompany explained his decision to start tweeting by saying: "I just hope that by joining I can get closer to the people that are prepared to support me in the good and bad times. I want to give them an insight into what it means to be playing for the fastest-growing club in the world and a young, promising national team."
Offside rule on Olympic 50p wrong
The offside rule - now there's a confusing thing. If only there was some kind of pocket-sized guide, in the form of, let's say, an everyday object that one could refer to in times of need. Well want no more! Because now there's a new football-themed 50p coin designed to ease confusion over the changeable law and commemorate the 2012 Olympics.
Unfortunately, some boffins from the murky realm of refereeing have pointed out that the helpful coins, half a million of which are now in circulation, have actually got the law wrong and are based on an old version of the rule.
The coin depicts a midfielder about to pass to one of two team-mates, with the first player, marked as offside, and the second, level with the defender, not offside. But a revision in the law meant that any player in an offside position when the ball is played is no longer automatically penalised and the ref must wait to see if he becomes 'active' first.
Totally glossing over the fact that this is virtually impossible to illustrate on a coin, Referees' Association member Mal Davies told The Guardian: "The public will assume this has been thoroughly checked, but sadly it's totally out of date. And on parks' pitches it will just encourage players to keep pressurising officials to blow the whistle immediately any time a player is in an offside position - and to abuse them when they don't."
Hmmm. No, it won't. It's a 50p not an FA rulebook... and football shouldn't be an Olympic sport anyway. Bah!
Ribery to open shisha bar... Stephen Ireland excited
Bayern Munich's winter break from Bundesliga football appears to have given Frank Ribery far too much time to sit and think and the France international has duly cooked up a plan to open an Arabic-themed shisha bar in his hometown of Boulogne-sur-Mer.
"I wanted a concept that's a little different from the ordinary," the bored winger told La Voix du Nord. As a devout Muslim, his bar, which will apparently be named O'Shahiz after his two daughters Shahinez and Hizya, will be alcohol-free.
Bad news for Boxing Day boozer Wayne Rooney, but not so bad news for hookah-lover Stephen Ireland, who was recently pictured after Aston Villa's recent 2-1 loss to Arsenal puffing on a shisha pipe, wearing just a pair of silver snakeskin trousers.
The image was posted on Twitter by Ireland's girlfriend Jessica Lawlor and resulted in a few words of advice for the 25-year-old from manager Alex McLeish. "I don't think you want to be bringing that kind of attention to yourself," the Scot said. "It is not my world the way the players live nowadays, with the tweeting and posting pictures of themselves and stuff."
Johnson taunts Barton at World Professional Darts Championship
QPR skipper Joey Barton may have been ranting and raving in trademark pseudo-intellectual fashion this week about his admittedly harsh sending off against Norwich City but it was "headbutt" victim Bradley Johnson who had the final say with a brilliant playground taunt.
After being labelled a "cheat", among other things, by QPR boss Neil Warnock for his part in the contretemps Johnson was pictured at the World Professional Darts Championship at Alexandra Palace in London holding up the sign that simply read: "Barton your breath stinks".
While Barton was furious at his dismissal and vented his frustrations on Twitter, calling the red card "ridiculous" and claiming the referee had been "conned", it was game, set and match to Johnson, whose side also beat ten-man QPR 2-1 following Barton's sending off at Loftus Road.
---
Video of the week
This week's video is actually a GIF from Red Cafe in which a binocular-wearing Manchester United fan zaps Luis Suarez with her laser eyes as the members of the Red Devils bench celebrate their nemesis' demise. Bizarre but funny. To see Luis Suarez zapped by a laser, click here

.
---
More than words...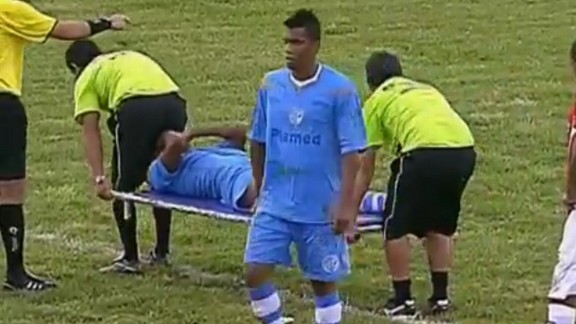 Confianca's Brazilian midfielder Arthur gets a face full of ass as he lies injured on a stretcher during a Copa Sao Paulo de Futebol Junior clash against Internacional.

©YouTube

---
Around the web
• Premier League clubs go back to school with retro graphic half-term reports
• Darren Bent picture with Andy Carroll holding up Liverpool scarf - may be fake though
• Sergio Aguero celebrates a fairy-tale year with a trip to Disney Land
---
• To follow me on Twitter just click here: Follow @ESPNsoccernetfc