And the award goes to...
With 2011 drawing to a close, it's once again time to dish out the annual awards to those who have had the misfortune to grace Off The Ball this year.
As usual, we shun the traditional gongs in favour of purveyors of the bizarre. So prepare to embrace an alternative look at the past 12 months as we crack on with the ceremony...
PROTEST OF THE YEAR - Horacio Baldessari
Our first award goes to Horacio 'La Pepa' Baldessari, the controversial coach of Peruvian club Trujillo, who enjoys expressing himself in unconventional ways and said back in September that he had "no regrets" after dropping his trousers on live TV and wiping his arse with a bundle of cash he claimed he had been offered as a bribe.
La Pepa pulled the crazy stunt at a press conference after claiming that his goalkeeper Victor Ulloa had been approached to throw a match in the Copa Peru.
Incensed, Baldessari addressed the nation's media

sat behind a table with the money spread in front of him and railed at the unscrupulous match-fixers who "threatened" him and his team. To illustrate his point, he bared his bum and used the banknotes as mock toilet paper.
Unfortunately, all Baldessari's colourful show achieved was a suspension for gross vulgarity from the Peruvian Football Federation. The Trujillo coach claimed the ban was simply an attempt to shift the attention from his allegations. "My ass is not the issue here," Baldessari was quoted as saying in The Guardian.
FAIL OF THE YEAR - Maranhao
There's a clear winner in this category and it's Esporte Clube Bahia substitute Maranhao, who, during a match in the Campeonato Brasileiro, tripped over his own legs and broke his arm while trying to bamboozle a Botafogo defender.
On at half-time as a replacement for Marcos and with Bahia trailing 1-0, Maranhao, eager to make an impression, galloped down the wing and then faked to cross into the box to try to gain a yard of space on his marker, but his opponent didn't buy the hoax.
Undeterred, Maranhao attempted the same trick once again but this time his ankle crumpled underneath him as he kicked fresh air and the red-faced Maranhao collapsed in a heap

on the Estadio de Pituacu pitch.
But the unfortunate fellow's indignity was not yet fully complete. As Botafogo cleared the ball, Maranhao was left rolling around on the floor and had to be carted off with a broken arm, after just 13 minutes on the pitch. The game ended 1-1.
BLAG OF THE YEAR - Conor Cunningham
Once upon a time, a ticketless Off the Ball managed to sneak into England's World Cup 2006 match against Sweden and ended up standing behind chain-smoking Italian duo Paolo Rossi and Gianluca Vialli up in the eaves, but that doesn't even come close to the achievements of Ireland fan Conor Cunningham, who amazingly blagged his way onto the Estonia bench for his nation's Euro 2012 play-off.
Cunningham travelled to Tallinn for the first leg of the make-or-break two-legged tie in November without a ticket and, after refusing to pay the £500 Estonian touts were demanding, decided to chance his arm when he noticed an open door at the Le Coq Arena.
"It was a corridor and a dead end, but I did see a bag of footballs and, when I picked them up, spotted an Estonian tracksuit underneath them," explained the 27-year-old, who put the tracksuit on over his jeans and Ireland shirt. "I didn't know what to do, to be honest, so I thought I'd better go into the Estonian dugout. No one said anything to me and then I realised I was sitting beside their manager (Tarmo Ruutli). It was about ten or 15 minutes into the match when a UEFA official got suspicious of me. He came over and, after talking to me, told me I had to move."
Cunningham, who watched the rest of the match from the stands, raced onto the pitch to celebrate with players at the final whistle

and was only rumbled when an Estonian official questioned why someone in one of their tracksuits was celebrating with Ireland. "She came over to me and started talking to me and I just said I had to bring the bag of footballs back," he said. "I still can't believe what happened. It's one of the most amazing experiences of my life."
REVELATION OF THE YEAR - Vanderlei Luxemburgo
This gong goes to former Brazil boss Vanderlei Luxemburgo, who told the amazing tale of when legendary striker Ronaldo wore nappies during the Copa America in 1999.
"Ronaldo was already overweight, and we explored every possible way of making him drop some pounds," Luxemburgo told AS. "The [team] doctor gave him medicine, Xenical, which was effective, but it also accelerated his bowel movements. So, in order to avoid any 'incidents', the player had to wear diapers, which embarrassed him."
It may have been embarrassing but it didn't stop the then Inter Milan striker scoring five goals to scoop the Golden Boot and hand Brazil their sixth Copa America title.
And it could have been worse for O Fenomeno: England striker Gary Lineker resorted to wiping his bottom on the pitch

following an accident in the trouser department during a match against Ireland at Italia '90.
ILL-TIMED TAUNT OF THE YEAR - Sammy the Tammy
The life of a mascot must be a thankless one - ignored or jeered for most of the season and then once a year you have to take part in the Mascot Grand National at Huntingdon Racecourse.
But that's not enough for Dunfermline Athletic mascot and Taunt of the Year winner Sammy the Tammy, who was given "a word of caution" by Fife police after he dressed in a cardboard tank and pretended to shoot at fans of Raith Rovers

before their promotion showdown at East End Park.
His madcap antics were accompanied by a gun fire sound effect played over the PA system and, while the Dunfermline fans loved it, Scottish football officials weren't so impressed given that the SPL was still reeling after a parcel bomb was sent to Celtic manager Neil Lennon, who also received bullets in the post in 2011.
But the authorities should cut such a committed artist as Sammy the Tammy some slack: against Ayr a few years ago he sat hidden inside a cardboard box in the centre of the pitch while the whole song 'Living in a Box' played out. He then emerged and took a bow.
VILLIAN OF THE YEAR - Luis Moreno
There were plenty of contenders for this category, including Carlos Tevez and Sepp Blatter, but Panama defender Luis Moreno takes first place after an act that had entire country baying for his blood.
Moreno, who plays for Colombian side Deportivo Pereira, quite literally kicked an injured owl

off the pitch against Atletico Junior in March only to discover that the injured bird, which died of shock 30 hours later, was in fact one of the opposition's mascot owls and lived in the stadium.
Angry Atletico fans chanted "murderer, murderer" after the incident and brought an instant reaction from the players of the Barranquilla-based side, including Luia Paez, who said: "It made me very angry that he kicked the little animal. It was already injured by being struck by the ball. I said a bunch of awful things to him [Moreno]. I was really angry."
Moreno, who was subsequently punished by his club and the Colombian football's governing body, said: "I was not trying to hurt the owl. I did it [kicked] to see if it would fly ... my family is very worried about what happened because an entire country is against me. I believe what happened is regrettable and I apologised to the entire country."
SEXIEST PLAYER(S) OF THE YEAR - Germany Under-20 women
Seven years after FIFA president Sepp Blatter suggested in all seriousness that "pretty" women footballers should "have tighter shorts" to "create a more female aesthetic", members of the German national squad made the old man's dream come true by posing for Playboy ahead of the Women's World Cup in June.
Five young footballers - Annika Doppler (Bayern Munich), Kristina Gessat (FSV Gutersloh), Ivana Rudelic (Bayern), Julia Simic (Bayern) and Selina Wagner (Wolfsburg) - all donned hotpants and a tight white tops in sexy mockery of the German strip and posed in various states of undress for a cover shoot.
The adult magazine went on sale on top shelves all over Germany and in the accompanying interview the frauleins claimed they did the shoot to debunk the "erroneous image of the unattractive football player", with Gutersloh's Gessat adding: "The message is - look, we are normal, and lovely, girls."
The Deutscher Fussball-Bund didn't know anything about the shoot beforehand but the stunt succeeded in promoting the Women's World Cup, where the host nation were beaten by eventual winners Japan in the quarter-finals.
EMBARRASING MUM OF THE YEAR - Mrs Messi
Mamma Messi is understandably protective of her little Lionel but chasing ex-girlfriends with a frying pan, as the Barcelona star's old flame Macarena Lemos claimed in October, took her matriarchal tendencies a rather large step too far.
In an interview with Telenoche, Lemos, a 20-year-old lingerie model from Rosario who briefly dated Messi in 2006, explained that the bizarre incident occurred when she was out shopping with her mother and her aunt.
"She was following me and taking photos until I turned around and asked her what was going on," Lemos was quoted as saying on Goal.com. "That's when she started insulting me. What was she doing there in the electronics section, with a frying pan in her hand? She was following me with a telephone and a frying pan."
Lemos claims she has never spoken publicly about the details of her teenage relationship with Messi and can't understand why his mother has been driven to chasing her with the family cooking pot.
"I have never came out and said whether I had slept with her son. I was 14 and he was 18 - and I didn't reveal anything about our relationship," Lemos said. "She seems to think I said something to a magazine, but I never did. They are confused."
However, the model did claim she would still like to spend a night with the FIFA Ballon d'Or winner in the future. "That's unfinished business for me," she concluded.
CLUB OF THE YEAR - Getafe
Any club that thinks launching a saucy promotional video called 'Zombies Calientes de Getafe', or 'Hot Zombies from Getafe', is a good idea deserves some kind of recognition as far as Off the Ball is concerned. So step forward Getafe and collect your Club of the Year award.
The tongue-in-cheek advertisement urged the Spanish club's depleted ranks of fans to donate sperm in order to populate the world with more Getafe supporters. The video, released in August, depicted one donor at a clinic and is inspired by a blue movie - shot in the style of a 1970s porn film and featuring zombie lesbians who are more undressed than undead - to do just that.
The general gist of the advert seems to be that if the donor is thinking of Getafe when he produces his sample any resulting offspring are more likely to support the Azulones rather than one of Madrid's three other top-flight clubs. Madness or genius? It is a thin line.
Getafe are statistically the club with the least fans in La Liga and Zombies Calientes de Getafe is the latest in a long line of peculiar adverts - which have included fans laying eggs, a bodybuilding dwarf and a hairy-chested transvestite - to lure supporters to the club.
VIDEO OF THE YEAR - Thor Akureyri FC
This is a cracking prank, devised by Icelandic side Thor Akureyri FC, and not only is the pay-off hilarious but you have to admire the time and effort that goes into the set-up: four players lay the groundwork over a period of about five minutes. Did you know that if you cover your face before doing sit-ups it makes you seize up for a few seconds? Click here to watch the sit-up prank

.
IMAGE OF THE YEAR - Gennaro Gattuso and Joe Jordan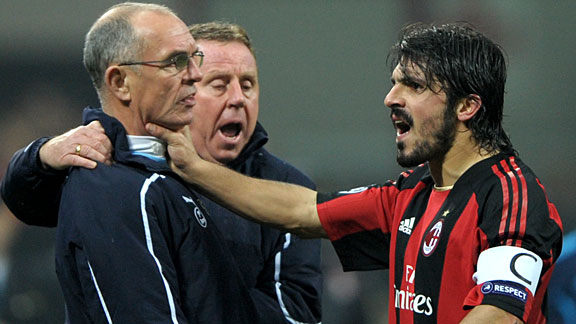 AC Milan's Gennaro Gattuso gets acquainted with Tottenham assistant manager Joe Jordan. ©Getty Images

---
• To follow me on Twitter just click here: Follow @ESPNsoccernetfc