Unwise man, Kenny's Christmas carol
Off The Ball never rests in its mission to scratch around the underbelly of professional football to find the most bizarre, humorous and inexplicable stories... not even at Christmas.
This week, Arjen Robben embraces the Yuletide spirit, AZ's goalkeeper attacks a pitch invader and gets sent off, a Ponferradina defender snubs the Real Madrid players to swap shirts with Jose Mourinho, Robin van Persie says only Arsenal or Barcelona are good enough for him to watch and someone who sounds like Kenny Dalglish sings a Christmas carol for Sir Alex Ferguson.
Unwise man sees stars
One unwise Ajax fan was left seeing stars this week after charging on to the Amsterdam Arena pitch to pick a fight with AZ Alkmaar goalkeeper Esteban Alvarado, who duly pounded the little oik into the turf

.
But the biggest joke about this cracker of an incident was that Esteban, who had to take a flying kick in the midriff from the foolish supporter before being able to retaliate, was sent off by the referee.
AZ coach Gert Jan Verbeek certainly thought it was a particularly poor jest from the match officials and ordered his team to leave the pitch in protest. The match was then called off with Ajax leading 1-0. The Dutch Football Association (KNVB) has since rescinded Esteban's red card but has yet to decide if the match will be replayed.
Ajax apologised for the whole sorry episode, saying: "This was a terrible incident and we deeply regret it and offer our sincere apologies. The supporter has been handed over to the police. It was a 19-year old man who was probably under the influence of alcohol. He said he hated the AZ goalkeeper and had therefore attacked him."
The Costa Rican keeper said: "To anyone who thinks I was overly aggressive, I invite them to experience what I experienced and then judge. I have children, brothers, a father and mother and I don't know if the person coming towards me is going to give me a kiss or cut me in half."
RVP: I only watch Arsenal and Barca
Robin van Persie will be hoping Santa Claus brings him a few extra terabytes of TiVo memory this Christmas so he can stockpile his favourite treat - Arsenal and Barcelona matches.
The hot-shot Dutchman revealed this week that only the "beautiful football" played by the European champions, and his own club of course, was worth watching on TV and with the Spanish season now on a winter break, he'll be stuck watching repeats like the rest of us.
Van Persie, who scored his 16th Premier League goal this season as Arsenal secured a scrappy 2-1 win over Aston Villa, said: "Nobody can play beautiful football all the time. When that happens I tell our lads, 'If it's not happening for you, just try to kill off the game so we can move on'.
"I am still a lover of the beautiful game and always will be but I have become more realistic. It is too romantic to think that you can win matches by playing beautiful football alone. Barcelona are the exception - and I have to admit they and Arsenal are the only teams that I often watch on TV."
Mourinho bearing gifts
After losing 5-1 to Real Madrid in the Copa del Rey this week, SD Ponferradina defender Dani Carril had no interest in swapping shirts with the Los Blancos B-team that had just spanked his lowly side, he wanted his shiny new Christmas gift from A-lister Jose Mourinho instead.
So, after shaking hands with each player from the Spanish third tier side, Mourinho was confronted by full-back Carril

, who pointed to the Special One's Real Madrid bodywarmer and made the internationally recognised gesture for 'let's swap shirts'.
Despite being slightly bemused by the unconventional request, Mourinho whipped off his gilet and handed it over to the former Levante and Hercules defender.
Carril was clearly delighted with his present, telling Marca: "Mou, you're the f***ing master".
Red-faced Robben apologises for 'stupid' dive
If Santa's sleigh went down as easily and as often as Bayern Munich winger Arjen Robben then Rudolph and co would never make it out of the North Pole and all the giftless kiddies around the world would cry salty tears into their breakfasts on Christmas morning.
The Dutchman was again at his theatrical worst this week and was booked for an absolutely diabolical dive

in a DFB Pokal match against Bochum, but the seasonal spirit of goodwill to all men seems to have penetrated even Robben's soul and he later apologised for his trademark tumble in the 2-1 win.
Robben, who was challenged by Marcel Maltritz only to go to ground a few steps later after he'd lost control of the ball, told ZDF:"That was stupid. Perhaps it was a penalty, but then I should have fallen earlier. I saw that I could not get the ball. It was stupid. I must not do things like this - and I apologise."
Stuttgart striker Martin Harnik, whose team-mate Claudio Molinari was recently sent off for two tackles on the Bayern star, concluded: "Robben is the kind of player who is already on his way down before you even touch him."
---
Video of the week
Liverpool manager Kenny Dalglish puts the disappointment of Luis Suarez's eight-match ban behind him and embraces the spirit of Christmas to sing a carol down the telephone to his old rival at Manchester United, Sir Alex Fergsuon... or rather it's a spoof of what might happen. To listen to a fake King Kenny's festive prank on Fergie, click here

.
---
More than words...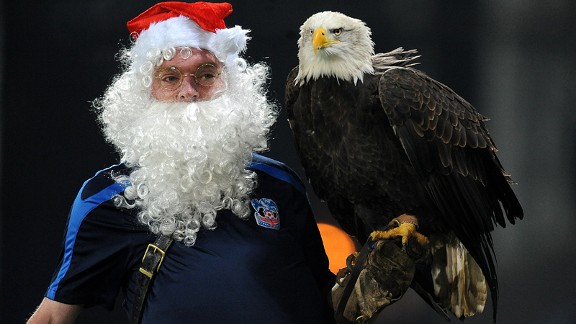 Father Christmas and his bird pay a visit to Crystal Palace. ©PA Photos

---
Around the web
• Leo Messi's cousin scores to help Olimpia to Paraguayan title
• Wayne and Coleen Rooney buy each other racehorses for Christmas
• Blackburn defender Dann ruled out for six weeks with a ruptured testicle
• Former Chelsea defender Michael Duberry dresses up as Princess Leia
---
• To follow me on Twitter just click here: Follow @ESPNsoccernetfc